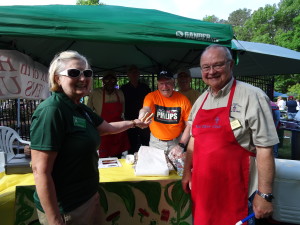 The Kirk Men's Club sold their delicious hot dogs at the Van Buren County Master Gardener Plant Sale during Bloomin' in the Bay. Karen Mulder was greeted with a smile and congratulations from Ingram Phillips when she purchased the 2000th hot dog the men have sold. Standing by with a fanfare on the slide whistle is Bob Berdine!
The money earned from their sales is used to complete community service projects like building wheel chair ramps, remodel projects for Wear N Share and shelving for the Dove House thrift shop. The community support of the hot dog sales enables living up to their motto of "where deeds meet needs."
Their next "dog gig" is the Car Show in the Bay on Saturday, May 24.