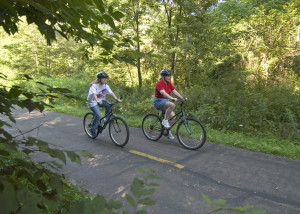 The Outdoor Adventure Groups 2014 Activities
The winter weather is behind us. Like the old saying goes, when March comes out like a lion, April comes in like a lamb. So get those hiking boots on and be sure to join us on our next upcoming adventure. Mark your calendars for some great April and May adventures.
Next Adventure: April 12, 10:30am.
Early April: A new "adventure " will be scheduled for the first time in early April. The relatively flat and low volume roads in the Mountain Ranch area provide an excellent opportunity for a group bike ride right here in Fairfield Bay. There are two, 2.5 mile bike-friendly routes, both starting at the Mountain Ranch swimming pool parking lot. We will meet at Bogies for brunch at 10:30am and start the ride about 11:30am. We will return to the parking lot after the first 2.5 mile ride (for those who do not want to go on the second 2.5 mile ride). Upon completion of the rides we will return to Bogies to rehydrate.
Late April: A change of scenery is always good and late April provides the opportunity for the annual canoe trip along the upper Buffalo River. The section we canoe/kayak has over 40 mild to moderate water rapids to traverse.
Save the Date: May & June Adventures.
In May, we will complete a gentle canoe float along a lower portion of the Buffalo River. Finally in early June we will return to Little Rock for another Bakery, Bar-BQ and, Beer bike tour.
The Adventure Continues into the summer:
Additional summer outings could include a pontoon party, another early morning canoe/kayak trip to and breakfast at Sugar Loaf Mountain and an inner tube float on the White River. If you have a suggestion for an Outdoor Adventure, or specific trail hike, please contact Tom Welch. For more information about the Outdoor Adventure Group, or if you're interested in participating in this bike ride or any other future activities, please contact Tom Welch at [email protected]