The crisp mornings bring both the autumn colors and the Fairfield Bay Outdoor Adventure Group out of their summer hibernation for area residents to enjoy.
Join us: Thursday January 8th – Hiking Seven Hollows Trail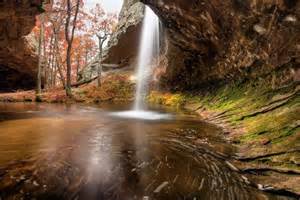 This first ever, midweek hike will be on Thursday January 8th. Will be on the SEVEN HOLLOWS Trail near Petit Jean State Park. Tim Ernst, author of the Arkansas Hiking Trails book that was used to plan this trip, calls this trail "one of my favorite trails in the state." Get ready for a real treat as this trail has tons of bluffs, boulders and waterfalls. This a 4.2 mile loop trail. 5.0 miles if we take the side trip to the Native American Grotto. We have typically hiked about 3-3.5 miles in the past. You can choose to hike the entire trail or just hike in as far as you want turn around and go back when you wish retire. He does not say how difficult it is, but assume it will be more difficult than the Sylamore trails we hiked over the last 3 years. The following is one hikers REVIEW.
Since this a little longer drive, we will leave from the 'Top of the Rock' parking lot at 9:00 AM SHARP. Unless we have a huge herd of Adventures going, we will plan on stopping at a small rural café called the Bucket List on highway 9 south of Centerpoint.
Save the Date: January 31st
A second January hike is scheduled for January 31st . This is likely to be a return to a section of the Sylamore Trail north of Mountain View. And stay tuned for a February 21st URBAN hike in Little Rock, which could be a walk through one of Little Rocks historic neighborhoods!
During March the water level on the Buffalo River at St. Joe will be monitored. When it is within the 6.5 to 7.5 ft level the annual whitewater canoe outing will be held. The final seasonal activity for the Group will be a gentle canoe float on the Buffalo River in April
While the above activities require some physical exertion, keep I mind that each adventure includes about as much time in a small town cafes taking in "fuel" and socializing. If you wish to receive e- mail updates on planned Fairfield Bay Outdoor Adventure Group activities e- mail Tom Welch at [email protected]