Spring finds the Fairfield Bay Outdoor Adventure Group ending its hiking adventures and making plans for more appropriate warm weather activities. The Group is monitoring the water level on the Upper Buffalo River. When the water flow is safe, and the weather acceptable, we'll canoe the upper Buffalo River with it's 40 plus sets of mild rapids.
April & May: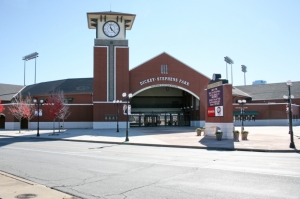 During April and May the Group will take in a Little Rock Travelers baseball game, do a gentle canoe float on the Lower Buffalo River and complete our annual early morning canoe and kayak paddle out to Sugar Loaf Mountain for breakfast.
Summer Activities:
Summer generally finds the Group staying "home" a little more, avoiding the Arkansas heat and humidity, as such additional opportunities will be provided to get out on the lake to cool off. Later in the summer, we may organize another guided bike ride in Little Rock. This year, Bobby's Bike Rental has agreed to put together an interpretive historic bike tour for the Group.
Looking Farther afield – Fall Hiking:
Hiking will begin again in November. This fall we may also take in a scenic drive and have lunch at the Cliff House which overlooks the Arkansas Grand Canyon in NW Arkansas. Each activity includes a brunch at some small town café and sometimes ends with a "happy hour". The Group is open to any other suggested Outdoor Adventures. If you have a suggestion for an Outdoor Adventure or would like to be added to the Groups emailing list email Tom Welch at [email protected]
While the Group prides itself as being an Eating and Drinking Club-with a Hiking Problem, we do burn off more calories than we consume. Also, just in case you forgot: "YOLO"- You Only Live ONCE . And guess what? You will not be any younger next year! Join us!!!