STANDARD FOR THE HUMAN SHAPE AS REVISED AND ILLUSTRATED
(Note: This column ran in the FFB News Aug. 28, 2002.)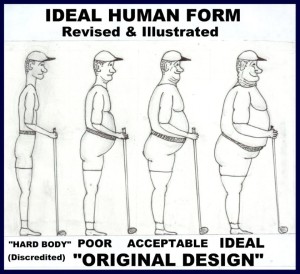 Last week this column catalogued the needless suffering Mankind has endured thru the ages attempting to conform to a false (and cruel) standard for the Human Shape, namely, the Hard Body. Further more, it was proposed in this article that the Creator's Original Design was in total contrast to the Hard Body model and that the Creator had no intention of squeezing what he had made Round – and called it "GOOD!" – into a painful square, hard mold. If one reads between the lines of Scripture, the following can be taken as the Gospel Truth regarding the Human Shape, herein referred to as ODMW (Original Design Men & Women).
The Genius of the Original Design The Creator of the human body designed it to be comfortable for the wearer. To achieve this, He employed Round as His Basic Geometric Form. Using Round as His Template, several accommodating features were built in: substantial padding to protect the bones and internal organs; ample cheeks – both body and facial, to pinch; handles about the middle to assist in romantic activities; and shelves to place objects such as books, cereal bowls, and snacks when the body is lying down in bed. In addition, roundness accommodates the wearing of hats and the girding of the belly with belts which are used to
hold up trousers so as to cover Man's nakedness.
Benefits of Original Design: Many benefits have flowed from this supernatural design: a human conforming to the Original Design will have fewer wrinkles; his clothes will not hang loosely; and he will be comfortable when sitting on hard park benches. ODMW tend not to break as many bones when they fall; they are even known to bounce right back up.
Socially, Original Design Men & Women are vital friends to farmers, cattle growers, and restaurants; they are important consumers of recliners, large clothes, and airline seats. ODMW are not easy to push around; nor are they sneaky like the skinny Hard Bodies. They are more content and take their sweet time getting places. They are good-hearted and laugh at pointless jokes. Their presence at poorly attended parties helps to cover over what otherwise would be seen as an embarrassing flop.
Enviromentally, ODMW use much less scarce water when filling up their bathtubs.They are also large contributors in the recycling of foodstuff.
ODMW are especially well suited for some very important tasks: comedians, crossing guards, opera singers, sumo wrestlers, football linemen, weight lifters, world's strongest man contestants, prison matrons, bouncers, and politicians.
ODMW are everywhere and can do everything the miserable Hard Bodies can do. They can play golf: John Daly, Laura Davis, Porky Oliver, Patty Berg, Lumpy Herren, and Craig Stadler to name a few. They can play basketball: Charles Barkley and Oliver Miller standout here. In politics, there is King Farouk, Mayor Daley, and President William Howard Taft. Entertainment gives us Fatty Arbuckle, Charlie Chan, Sidney Greenstreet, Mae West (from the chest up), Jackie Glea
son, Orson Wells, Sophie Tucker, Oprah (sometimes), and that lawyer babe on "The Practice." The list goes on and on.
Please consult the accompanying chart to see how well your body is conforming to the Creator's Original Design. If you find yourself not quite in line with the IDEAL SHAPE, here are some dietary suggestions:
1. Eat when hungry. This is the basic premise for human happiness. No more hunger headaches. No more churning of the gut. If it is ten minutes before bedtime, get out the Frosted Mini-Wheats, chop up a banana, and go for it. If it is 4:30 in the afternoon and you are hungry, and dinner is not just around the corner, pull out the cheese and crackers and wash it all down with the beverage of your choice.
2. Carry snacks with you at all times. In your purse, in your golf cart, your boat, your car, wherever you go, make sure you have a supply of Snickers, Little Debbies, Power Bars, Cheese Crackers, and Potato Chips. Also, when you are out and about, know where the vending machines are located; and always carry a bag full of coins.
3. Do not count calories! Food is food and it is all good for you. If you are tempted to return to this nasty habit, immediately call your Dieters Anonymous support buddy.
4. Eat what you like! Your Original Design Body has built-in, individually, customized sensors that will guide you to eating what is right for you. If you hate vegetables, don't eat them. They probably will make you sick. If you have a passion for chocolate soup, do not deny yourself: you body is telling you that you NEED it!
So there you have it: The chart and these diet principles are all you will ever need to know about enjoying your body as the Creator intended. Bon Apetit. Let the good times roll!