What is that Smell!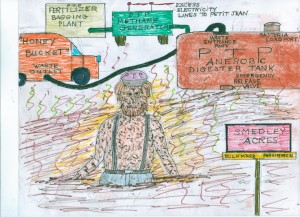 Listening to Prof. Smarmy's spell-binding presentation held a couple of months ago at Motel 8's meeting room, which touted his patented "PTP" system – explained as a process that converts nasty and problematic hog manure into benign and profitable by-products such as electricity and fertilizer, was a very eager and newly cash-rich Ernest Smedley.
Ernest had just come back from Las Vegas after his quickie marriage to his online bride, "Char" Murgatroyd, and after his even quicker but profitable annulment from the transvestite, Charles Murgatroyd. Smedley, who was ably assisted by his lawyer and cousin, Vinny Clagg, squeezed $100,000 out of Murgatroyd. Smedley now had a fresh load of cash to play with, and as Prof. Smarmy's scheme struck a nerve in Smedley as a "can't miss, almost too-good-to-be-true deal," Smedley waltzed into the motel's side room to sign up so as to get in on the ground floor of Prof. Smarmy's program.
The PTP investor kit listed the several necessary components: a large anaerobic digester tank; an aeration bin; various pumps; 65-kilowatt microturbine; and a manure hauling truck; a fertilizer bagging system; and miscellaneous electrical and hydraulic apparatus. Cost for this package was $65,000 delivered, plus a $35,000 franchise fee, payable to Prof. Smarmy. The return of this investment, as guaranteed by Prof. Smarmy, was 50% the first year and then going up another 10% each year after.
Smedley was good to go immediately as he already had the land to house the PTP system as a result of his house being totally leveled following the Vacation Home Exchange disaster a few months ago. Smedley's cleared lot was somewhere between Milkweed and Persimmon streets in an outlying area of the Bay, so he reasoned that his agricultural operation should not bother any of the very few neighbors out his way. So he pulled his camper onto the property and awaited delivery of the PTP package.
A week after his checks were cashed, the PTP system arrived on two flat bed trucks, all neatly boxed up. The key to successfully getting under way was to follow very carefully the directions as outlined in a very thick, and detailed, manual. Smedley hired another cousin, Wilbur Smedley (between the two of them they had the equivalent of one GED), and they soon got to work in setting up the hands over-fist money making PTP system.
Four weeks later, the PTP system was in place and ready for its first load of raw material – namely, the hog waste from the Buffalo River area hog farm. Ernest and Wilbur drove off in their super-sized "honey bucket" truck and soon returned with 50,000 gallons of you-know-what. They pumped this smelly sludge into the anaerobic digester, following the manual's instructions to the letter, anxiously awaiting for the process to begin and for the money to start rolling in.
And Nothing Happened! Well, not quite nothing, as the overwhelming fragrance of the hog manure began to rise in thundering noxious clouds, flattening every man and beast for miles around. Smedley immediately called Prof. Smarmy to get this Chernobic event under control. Prof. Smarmy went over the entire setup procedures with Smedley that the Smedley cousins had followed and found nothing amiss to explain the misfire. Finally, he asked Smedley if he had ordered the bacteria that needed to be in place in the anaerobic digester before adding the hog manure.
"Whoops!" cried Smedley,"That was on my shopping list but I didn't think it was necessary right away as I was running short of money. What should I do now?" the panicked Smedley pleaded. "Well, Smedley, the only thing you can do now is to empty the hog manure out of the digester and then spread it around your lot. You do this by crawling under the digester tank and open the emergency retaining valve – but be careful here, as the stuff will come out like a tsunami."
It wasn't long after that all the fire trucks from every community within fifty miles (with everyone wearing hazmat suits and gasmasks), arrived at Smedley's place and began hosing the mess down. Tickets and citations were to be handed to the Smedley cousins but nobody could stand to get near them.
Epilogue: Prof. Smarmy's phone was disconnected, leaving Smedley knee deep in you know-what.