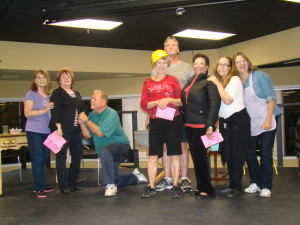 "Hallelujah Girls" is coming to the theater in the Conference Center. Pictured above is the cast and if you are looking for some laughs, this is a must see show!!
Left to Right the characters are: Jackie Rohrer-Crystal, Sharon Luxon-Carlene, David McBee-Porter, Frieda McClellan-Bunny, Dan Feuer-Bobby Dwyane, Janice Thompson-Mavis, Seana Garrow-Nita and Cindy Ritchie-Sugar Lee.
The action takes place in Eden Falls, Georgia, in an abandoned church turned into a day spa. After the loss of a dear friend, the women realize they need to make their lives better and gather together every week to change their lives. Tension mounts when an ex-boyfriend shows up unexpectedly, a marriage proposal comes from an unlikely suitor and Sugar Lee's archrival vows she'll stop at nothing to steal the spa away from her.
There will only be four performances (not the usual six), so get your tickets early before they are sold out. Show dates are Dec 6, 7 and Dec 13 and 14, show time 7 p.m. Tickets are now on sale at the Conference Center and the Library for $15. Proceeds bemnefit the FFB Library.