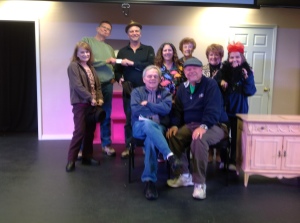 Our Towne Players will will perform a warm and wonderful comedy, called "Harvey" by Mary Chase.
Elwood P. Dowd, played by Dan Feuer, decides to introduce his imaginary friend, Harvey, a six and a half tall rabbit, to guests at a social party. His sister, Veta, played by Jackie Rohrer, has decided enough is enough and she determines the best thing to do is admit her brother to a sanitarium to protect the family from futher embarrassment.
However, problems arise and Veta herself is mistakenly assumed to be on the verge of lunacy when she explains to doctors that years of Elwwood's hallucinations have caused her to see Harvey too. The doctors admit Veta instead, but when the truth comes out, the search is on for Elwood and his invisible companion.
When Elwood shows up at the sanitarium looking for Harvey, his strange delusion has a strange influence on more than one of the doctors. Only at the end does Veta realize that maybe Harvey isn't so bad.
The rest of the cast consists of, Sharon Luxon as Betty Chumley, David McBee as Dr. Chumley, Seana Garrow as Myrtle Mae Simmons, Sharon Shaffer as Mrs. Chauvenet, Kim Feuer as Ruth Kelly, R.N., Thom Dillon as Duane Wilson, Wade Lucas as Dr. Sanderson, Robert Otis as Judge Gaffney, Pat Etheridge as Mrs. Robinson and Arlen McIrvin as E. J. Lofgren.
Tickets are now on sale at the Conference Center. Peformances run April 17, 18 and 25, at 7 p.m. and Sunday, April 26 at 2 p.m.