V.F.W. Ladies Auxiliary District 6 Color Guard a proud tradition in Fairfield Bay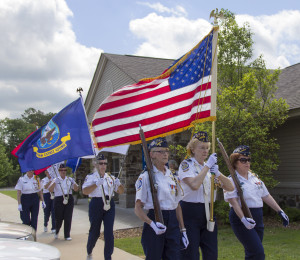 November 2014 marks the 26th Anniversary of the V.F.W. Ladies Auxiliary District 6 Color Guard charter membership of V.F.W. Auxiliary 4513 in Fairfield Bay.  Officially formed by Karen McKeever in November 1988.  District 6 includes Pope, Yell, Faulkner, Conway, Van Buren and Perry Counties.
Since their formation, the team has entered the V.F.W. National "Close Order" Field & Drill competition thirteen times.  Their first time out, they placed fourth a Bronze Metal and since then, they have received nine 1st Place Gold Medals, and three 2nd Place Silver Medals.  They have also been National Marching Unit Champions twice and they received "Best in the Nation" for the National Patriotic Rally 16 times.  The last few years National Convention has not held any competitions.
These ladies are a proud group and actually consider themselves a family unit.  As a family, the ladies march in formation to a medley of songs, which usually includes "This Land is Your Land" and anthems of the armed services.  Flags held high on staff carried holsters honoring the V.F.W., Ladies Auxiliary, the Army, the Marine Corps, the Navy, the Air Force, the Coast Guard, P.O.W./M.I.A., the State of Arkansas and the United States.  When a new anthem sounds during their choreographed march, the flag bearer presents the representative flag in dropped salute.  The order is issued and precisely aligned rows of women turn and advance as one.
Competitive performance is designed to be great audience entertainment and is judged both on creative choreography and technical proficiency.
On January 20, 1993, the Ladies Color Guard participated in the Inauguration of Bill Clinton, the 42nd President of the United States.  The Ladies Color Guard through the years have presented Colors for several State of Arkansas and National V.F.W. and Ladies Auxiliary functions, and in parades across the state and Branson, Missouri.  They have participated in many military funeral ceremonies along with special ceremonies on Memorial Day and Veterans Day for Arkansas governors and the Veterans Administration of Arkansas.  They have also performed for several V.F.W. Commanders-in-Chief and Ladies Auxiliary National Presidents along with their favorite duty, that of "Flag Education Seminars" for the youth of Arkansas.  This July the Ladies Color Guard will post the Colors at the V.F.W. and Ladies Auxiliary 101st National Convention Southern Conference in St. Louis, Missouri.
Present members are:  Betty Allen, Connie Beaumont, Erma Doty, Becky Lamb, Sharon Luxon, Karen McKeever, Suzie Neighbours, Sharon Nuckolls, Alycia Raines, Shirley Rudolph, Linda Secrest, Rose Teer and Marge Wright.