Celebrate Recovery
OFFERING HOPE TO THOSE WITH HURTS, HABITS AND HANG-UPS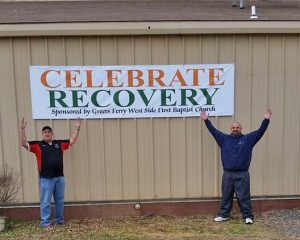 There are many in the lake area who struggle with life problems that distresses the person, their families and their friends. Celebrate Recovery, which holds meetings every Monday evening at West Side First Baptist Church in Greers Ferry, just celebrated their one-year anniversary on January 2, 2017.
This group includes those who are in recovery from substance abuse, or family members who are codependent. It also has people who are struggling with control issues, financial problems, divorce, grief, anxiety and many other hurts. "Just in the past year, I've seen someone come from being antisocial to being a leader in the group. I've seen someone claim not to believe in God, yet come to find peace and forgiveness through God. We have people from so many different backgrounds, hurts, habits and hang-ups who have come together to form this CR family", says Melissa Keeton, the Women's Ministry Leader for Celebrate Recovery in Greers Ferry.
While claiming "Freedom from Hurts, Habits and Hang-ups," Celebrate Recovery uses the 12-step model with Christian values, based on eight principles from the Beatitudes in the Bible. Clearly, their higher power for healing comes from Jesus Christ.
The mission of Celebrate Recovery, which started in California 23 years ago, aligns with what West Side First Baptist Church believes we should all do – reach a group of people who haven't been reached. Senior Pastor, Doug Inzer, shares "Celebrate Recovery has changed our church's impact on not only our own community, but on the communities around ours as well. There is nothing like seeing someone walk the aisle and give their life to Christ, then witness that same person celebrating their 1st, 2nd, 3rd and even 12th month of being clean and sober. The Lord Jesus is saving lives through Celebrate Recovery one life at a time!"
This group started with 12 individuals who came together to support each other through their challenges, and has now grown to nearly 50 participants each week who continue to come and share their joys, victories, worship, struggles and encouragement. David Keeton is the Men's Ministry Leader who identified there was a "… need in ourselves and in our community. We have so much "stuff" going on in our lives that needs to be addressed and shared with others for strength and accountability purposes. With shared victories comes hope and happiness."
Meetings are held Monday nights and start at 5:45 p.m. with a meal. Worship and large group meeting is held from 6:30-7:30 p.m. and small groups are held 7:30-8:30 p.m. A children's program called 'Celebration Place' is offered from 6:30pm-8:30pm. The kids, often times, deal with as much as the parents do and their program gives them healthy coping tools.
West Side First Baptist Church is located at 7025 Greers Ferry Road in Greers Ferry. For more information on Celebrate Recovery, visit our Facebook page at "Celebrate Recovery – Greers Ferry AR" or call the church office at (501) 825-7247.