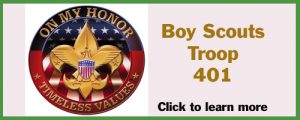 Boy Scouts Troop 401
By Scoutmaster Craig Fisher
Boy Scout Troop 401, of Foothills District, Quapaw Area Council has been in existence for approximately 27 years. The Charter Organization or sponsor is Fairfield Bay Lions Club. Over the years numerous Scouts have reached First Class, Star and Life ranks, any of these are a great accomplishment requiring many projects and goals being reached. Several Scouts have also reached the highest Boy Scout rank of Eagle.
Currently all our members are on track to achieve this. The Troop meets each Monday evening at 6:00 pm – 7:30 pm at the Greenwood Building in Fairfield Bay. These are planning, learning and project times. Troop 401 is a "boy led – adult guided", traditional program, Boy Scout Troop with activities based around camping, hiking and in the outdoors as much as possible. Most of our learning and advancement is conducted in these outdoor settings. The goal is to have at least one outdoor activity per month.
We attend a week long Summer Camp each summer usually in June and usually at Camp Rockefeller near Damascus. At Camp the Scouts work on and earn various Merit Badges and learn new skills as well. All attendees report having a great time and can't wait to go back. We also attend District and Council events in the form of Spring and Fall Camporees and other sponsored events as well.
The most recent activity was opening the meeting of the Van Buren County Quorum Court with a flag ceremony and opening prayer, on Jan 19th. The next scheduled activity is helping with a fund raising Pancake Supper on Feb. 4th at the FFB Lion's Den of
which the Troop will receive the proceeds for Summer Camp. The Scouts have set goals for the coming year that include trips,
events and service projects.
Troop 401 is not always a large troop, currently there are twelve Scouts, we have been as large as twenty five, and are always looking for and welcoming new Scouts and their families.