Van Buren County Aging Program
By Pamala Draeger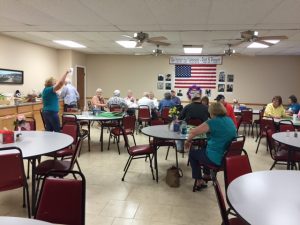 A recent study concluded, "Seniors who continue to be actively engaged in life are more likely to age successfully." I pondered that conclusion for a moment. Aging is part of life. We can't stop it and (Lord willing) most of us will be successful at it without doing a thing. My own conclusion is that we might as well make the best of it! A local senior center may be the most accessible and inexpensive place to find services and programs offered to the 60 and over crowd.
Van Buren County Aging Program (VBCAP) operates five senior centers from the main office in Clinton. Friendly faces and congregate noon-time meals can be found in Fairfield Bay Tuesday-Friday; Shirley, Scotland, and Clinton Monday-Thursday; and Damascus on Tuesday and Thursday. Each center offers social opportunities and wellness programs to promote activity and enjoyment. A monthly menu is available at each center with an activity calendar featuring daily events, monthly birthday parties, and special trips printed on the back for easy reference.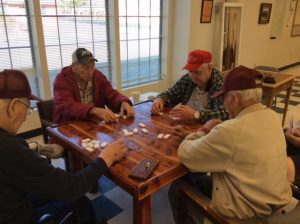 White River Area Agency on Aging (WRAAA) provides menus that are approved by a registered dietitian, provide 1/3 of the U.S. Recommended Daily Allowance (RDA) and comply with Arkansas' Division of Aging & Adult Services standards. WRAAA takes care of the nutritional content, our center cooks take care of the delicious! Our goal is to serve meals that taste like you made them at home, so VBCAP kitchens are increasing menu items made from scratch, and decreasing convenience foods which contain preservatives and excessive amounts of sodium and sugar.
You won't need to wait until noon to come! Most centers are open from 8:30 am – 2 pm or later so you can participate in various activities to promote social interaction. You may arrive to find a lively group of domino players at one table, meticulous puzzle-piecers at another, crafters, crocheters, and card or pool players. You might even stroll in to a high-spirited weekly Bingo game or music in the air compliments of local entertainers. There are opportunities to compete in Pool Tournaments, Bean Bag Baseball, and Quiz Bowl in our own county, senior centers within WRAAA or other locations in Arkansas.
If you are seeking wellness programs to enhance your physical, emotional, intellectual, and spiritual health, look no further than your senior center. We have Move with Balance (proven to reduce falls by over 60 %), Silver and Fit, Peppi, and other exercise classes. Some have Bible study for spiritual health. Some have blood pressure checks, hearing assessments, or diabetes and chronic disease workshops.
Are you anxious to visit, but no longer drive? We provide transportation to and from the center. Need a ride to the local grocery store or pharmacy? A Transportation Schedule is posted in each center. Even rides to local appointments are available through the Transportation office in Clinton (Call Anna at 745-8140). We also provide transportation for outings. If you would like to join our excursion to see Moses at the Sight and Sound Theatre in Branson this summer, sign-up at one of the centers, (or call Heather 745-2544).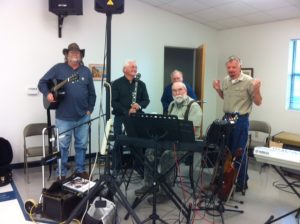 In addition to programs at the senior centers, VBCAP provides Meals on Wheels home-delivered meal service. The Fairfield Bay and Clinton kitchens prepare meals for delivery to eligible homebound seniors within city limits four days each week. In addition, those living in more rural areas may receive a week's worth of frozen meals. Our Meals on Wheels volunteer and staff drivers may be the only person our homebound neighbors see, so the nutritious meals, friendly visit, and safety check are a vital part of caring for those who once cared for us.
Volunteers play a critical role in senior centers. In fact, volunteers make up our entire Meals on Wheels delivery team in Fairfield Bay! There are ample opportunities to volunteer throughout the program and all gifts of time are welcome from individuals, students, as well as corporate/group volunteers,
Volunteers will be needed at VBCAP's largest fundraiser which benefits Meals on Wheels. Just before Labor Day weekend, VBCAP hosts the Cowboy Catfish Supper at the Clinton Senior Center. This year it will be from Wednesday, Aug 31 through Saturday, September 3. Join us for the fun and support Meals on Wheels in Van Buren County!