Questers
How the Questers Started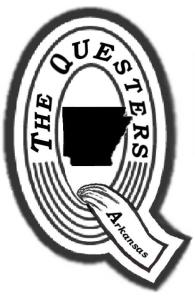 When a Quester from San Fransico, CA, moved to Arkansas in 1970, she gathered together some of her new friends and formed Quapaw Chapter #519 in the Little Rock area. By 1977 there were five more chapters: Fairfield Bay #800; Petit Jean #819; La Petit Roche #822; Clara B. Eno #830; and Arkopolis #867. Now, in 2013, there are fourteen chapters throughout the state.
On May 2, 1980, Arkansas' chapters became an "Organized Quester State", with the first state-wide meeting held in Little Rock. The National President brought the State Quester Charter to the meeting and installed the first State officers.
Over the years, chapters have been formed and dissolved, but Arkansas' first chapter, Quapaw, is still meeting and actively supporting not only their local and state preservation and restoration projects, but the goals of The Questers International as they have for 43 years!
Our Mission is Simple…to assist and support, through fellowship and action, the efforts of The Questers, an international non-profit organization, and individuals with an interest in the research and study of antiques, historic preservation and restoration, and education.
The city of Fairfield Bay is tucked away in the central mountains of Arkansas (about 2 hours north of Little Rock and about 1 hour from Missouri's southern border). Beautiful Greer's Ferry Lake is our backyard playground.
Davis Special Chapter #1193 – Fairfield Bay, AR
Davis Special Chapter was chartered on February 21, 1991 at the home of Norma Miller. The Charter members were Dorothy Ball, Billie Covelli, Elda Gerndt, Maxine Hall, LaVon Hedges, Ruth Long, Norma Miller, Jacola Newton, Ollie Shelton and Melvis Sutton.
The group meets on the 3rd Thursday of each month at 1:00. Please call Janet Small at 884- 3023 if you have any questions or would like to join this group. Through the years their main Preservation & Restoration project has been to help with the upkeep of Davis Special School, but recently we also started make regular donations to the Log Cabin Museum in Fairfield Bay. The latest project for both Fairfield Bay Quester groups was for signage at the Indian Thong Tree at Woodland Mead Park in Fairfield Bay. Indian tribes in this area pioneered trails and secretly marked certain trees in the forest to point to areas that had water sources, caves that provided shelter and safety, and other points of interest to them.
Indian Rock Questers-Chapter #869-Fairfield Bay, AR
Our motto is "It's fun to Search and a Joy to Find." Our purpose is
to appreciate antiques, to educate through research and study and to support the preservation and restoration of historical landmarks.
Indian Rock was chartered on December 5, 1977. The charter members were Esther Claybourn, Dorothy Gallagher, Encel Henning, Martha Hokanson, Lola McKenzie, Annette Mang, Beatrice Plume, and Georgia Schoenecker
The group meets the 4th Monday of the month, 1:00 p.m. Please call 501-884-6339 for current meeting location, as it changes each month.
Our current project is the Fairfield Bay Log Cabin…Two log cabins, built in the mid 1850's with hand-hewn logs chinked with mud and straw, were saved from destruction when they were moved during the 1950's, from what is now the middle of Greer's Ferry Lake. As the US government prepared to build a dam site there, the cabins were disassembled and re-built using cement instead of chinking materials. The smaller of the two cabins was placed in Fairfield Bay, with a fireplace constructed from local stone and a mantle of rosewood, walnut and pine.