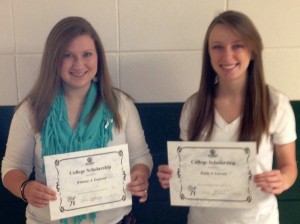 Whitney England from Higden and Kayla Lawson from Edgemont, graduating seniors at West Side High School, were recently awarded $1,000 college scholarships from the Greers Ferry Optimist Club based on their academic achievements, dedication to community service, participation in extra-curricular activates and letters of recommendation from teachers and staff.
Meeting the needs of young people in communities worldwide, Optimist Clubs have been "Bringing Out the Best in Kids" since 1919 through positive service projects aimed at providing a helping hand to youth. This activity allows Optimists to build the self-esteem of the youth in their community and show them that their efforts and hard work really do make a difference.
The Optimist Club of Greers Ferry has been awarding college scholarships for 39 years and has been active in the Greers Ferry community since 1972. Other programs and service projects that the Club participates in include: High School Essay and Oratorical Contests, Elementary School Service Awards, Weekly Tutoring, Annual Easter Egg Hunt, Christmas with Santa and the Labor Day Rummage Sale.