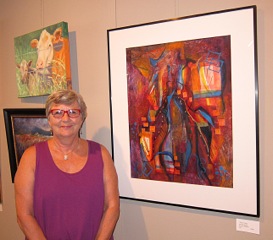 Sandra Marson is showcasing her artwork in a One Woman Art Exhibition at the Fairfield Bay Library. The exhibit is sponsored by the North Central Arkansas Artist League in collaboration with the library. This NCAAL Show will feature larger than life flowers and abstractions in colors of the flowers.
Marson lives in Jacksonville.  She has a BA from the University of Arkansas at Little Rock. She has always been interested in the arts. After retiring from First Electric Cooperative Corporation as a Senior Distribution Designer five years ago, she has strived to make art her second career.  Marson has taken workshops from several noted artists including Frank Webb, Doug Walton, Don Andrews, Mark Mehaffey, Owen Hunt and Birget O'Connor.  Marson is a member of North Central Artist League, Arkansas League of Artists, Mid-Southern Watercolorists and Missouri Watercolor Society.  Also, as a member of the Arkansas Artist Registry, Marson's paintings are online.
In May 2013, Marson had her first solo at Christ Church in Little Rock. The show, called "Dream Weavers," featured 20 paintings in a series inspired by color, shapes and design, woven into a pleasing design. Marson states that she tries to evoke an emotion through the use of hot colors or a cooler  palette of blues to find a calming experience. She prefers to paint from her memory or create from the imagination.
Marson has a painting hanging in the MSW Juried Show at the Butler, in Little Rock. The show will hang through October, 2013.  She also just received ALA's first place award in the Abstract Class of the 4th Annual Juried Show sponsored by ALA and the Cantrell Gallery in Little Rock. ALA's show will hang through October. 50 paintings are included from artists around the state. Marson will also show five paintings October 23 – November 10, at The Rep during the theater's production of "REDS" a play that drops you squarely inside the world of abstract painter Mark Rothko.
Marson has been influenced by a great collection of underwater photos she took while diving in the Caribbean. The images are spectacular and from a world few people will experience. Most of Marson's work is what watercolorist, Pat Dews, describes in her book as "Overall Patterning." This format is a little harder to do, as you must have shapes and colors that weave together and have unity, and often there is no center of interest to draw you someplace in particular. The whole painting has to be special.
Library patrons may view the exhibition through January, 2014 during regular hours: 1 to 4 p.m. Mondays, Tuesdays and Thursdays; 10 a.m. to 5 p.m. Wednesday and Friday and 10 a.m to 12:30 p.m. Saturdays.
To purchase a painting, call 501-238-0043 or contact Joan Bland, NCAAL Exhibition Coordinator at 785-979-5193.