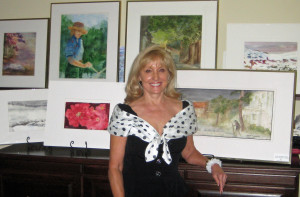 Award Winning Artist, Charlotte Rierson is showcasing her Artwork in a "One Woman Art Exhibit," located in the Fairfield Bay Library. The exhibit is sponsored by the North Central Arkansas Artist League, in collaboration with the FFB Library.
Charlotte and husband, Don, moved to Fairfield Bay in 1991, after Don retired his fighter pilot wings from the Air Force. They loved this area and it was close to where Charlotte was from, Jacksonville, AR. Between them, they have three children and eleven grandchildren.
Charlotte has been involved in what she calls her "Art Spirit Journey" since an early age. She taught Dance Arts for two generations and got her Bachelor of Science and Education, majoring in art education, from the University of Central Arkansas.
Charlotte is past President of the Mid Southern Watercolorists (MSW) and presently MSW Director of the Regional Art Advisers. She is a signature member of the Arkansas League of Artist. She has exhibited artwork in our Nation's Capitol in Washington D.C., Arkansas Governor's Mansion, Clinton Presidential Library, Repertory Theatre and throughout. She has won numerous art awards and has artwork in the permanent collections of the Arkansas Historical Museum, University of Central Arkansas, Arkansas Art Councils Small Works on Paper, Ozark Medical Center and the Clinton Presidential Library. Charlotte has had One Woman Exhibits at Garvin Woodland Gardens, Hot Springs; Gem Theatre Art Gallery, Heber Springs; Ozark Heritage Art Center, Leslie. Her Artwork was featured in two art books, "Art & Artisans of the Ozarks" Vol. II and "A Gathering of Artists" Vol. II; the April 2013 issue of "Arkansas Life" and the Governor's Calendar.
Charlotte presently has paintings in the Arkansas League of Artist's Signature Art Exhibit at the Cox Art Center in the Little Rock River Market, and several venues sponsored by the North Central Arkansas Artist League. One of her greatest honors was receiving the Arkansas Governor's Award in Community Art Development sponsored by the Arkansas Arts Council.
Charlotte says she is serious about her art & the promotion of the Arts. She is excited about exhibiting Artwork in the new Our Towne Conference Center in Fairfield Bay where she is the Director for the North Central Arkansas (NCA) Art Gallery.
You may view her Artwork at the following Websites: http://www.fineartamerica.com/profiles/charlotte-bailey-rierson.html http://www.artspiritunlimited.com
Library patrons may view the exhibit during regular hours from 1-4 p.m. Mondays, Tuesdays and Thursdays; from 10 a.m. to 12:30 p.m. Saturdays, Aug. 8 – Oct. 31. For purchase of a painting, call (501)238-0043 or contact library coordinator Joan Bland (785)979-5031.