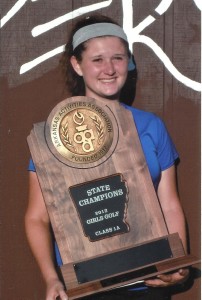 George O'Scanlon, President of International Sports Specialists, Inc., Down Under Sports, announced that Down Under Sports has invited Kylie Phillips to represent Arkansas Golf in the 26th Annual Down Under Sports Tournaments to be hosted on the Gold Coast of Australia and Hawaii in the summer of 2014.
Kylie is a senior at Shirley High School and has been on the golf team since she was in 9th grade, representing the North Central Conference Golf Team. When informed of this recognition, Kylie said, "I am honored to be an ambassador of my community and state and also our country. I'm looking for sponsors to make donations towards the cost of competing Down Under. I need to raise about $6,500 by June 1, 2014 in order to go. A major source of funds comes through contributions from family and friends, but I also know that the business and organization sponsorships will be a very important part of fundraising for me. These donations will help me fulfill this once-in-a-lifetime opportunity."
Founded in 1989 by George O'Scanlon, Down Under Sports uses the common language of sports to bridge the continents and provide a forum for athletes from around the globe to compete head to head in the sport they love. The Down Under Sports goal is to continue to provide athletes who excel in their sport the opportunity to experience the culture, beauty and grandeur of the land Down Under all within the framework of spirited and intense competition.
Imagine! One of our own Fairfield Bay residents and Shirley High School students being chosen to represent us. There are several ways to donate toward Kylie's trip if you would like to be a part of this golden opportunity for her. There is a bonus for you when you make your donation. It's called a "thank you ticket." Fill it out, send it in and your name will be included in two drawings: one for a trip for 2 to the Down Under Sports Competition in Australia and Hawaii; the second drawing is a 5-day cruise for two (excluding air fare).
Here are the ways you can participate: *Pick up a Sponsorship Letter at Jack's, Regions Bank, Simmons 1st Bank, Craven Foods and Fairfield Bay NEWS. *Send a check directly to Down Under Sports, 1755 North 400 East, Suite 201, North Logan, Utah 84341. Be sure to specify that it is for Kylie Phillips for Arkansas Golf. *Donate online at www.downundersports.com *Buy "thank you tickets" for the drawings for 6 for $20 or buy a T-shirt for $20 from Kylie and/or her mother, Dallas. Call 501-246-0418. A portion of those sales will go towards Kylie's expenses.
Congratulations Kylie! If you have questions, you may call 1-435-753-4732 or go to the website at www.downundersports.com. Or, if you prefer, Kylie's mother, Dallas, will be glad to talk with you at 501-246-0418.