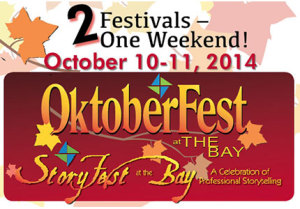 Fairfield Bay is celebrating fall with TWO FESTIVALS in one – a traditional German OktoberFest and – StoryFest, the professional storytelling event, on Friday, October 10 and Saturday, October 11.
"As Fairfield Bay began to plan this year's StoryFest and fall event, we realized that we wanted to turn our fall festival back into the OktoberFest we have celebrated in the past," said Paul Wellenberger, Fairfield Bay Mayor. "Our community enjoys celebrating the seasons and welcoming others to our beautiful Bay city. A true OktoberFest includes hearty food, lively music and is a great BIG community celebration – exactly what we want to share along with our storytelling here in Fairfield Bay."
A true Oktoberfest includes hearty food, lively music and is a great big community celebration – exactly what you'll find in Fairfield Bay:
• Authentic German Bier-garten & fabulous German Fare
• Volkswagen Show
• Motorcycle Rally, "Thunder in The Bay"
• Arts and Crafts
• Live music each night –
o Friday: Smooth Reflections
o Saturday: Feather River Band, Oom-Pah-Pah Band & Dance
Oktoberfest goes to 10pm both nights.
Activities for All
Free and open to the public, OktoberFest opens at 12 noon on Friday, October 10 ending at 10 pm that night. Arkansas artist and author Michael Fess will be honored as Fairfield Bay's "Artist-of-the-Month". Fess's art and new book will be available for sale (books will be signed) Friday afternoon and Saturday. The Friday events close with a celebration of OktoberFest by Feather River Band that evening.
Saturday, October 11, the festival opens at 9 am. A motorcycle rally, Thunder in the Bay, rolls from 9 am until 10 pm and a Volkswagen Show 'n' Shine is open until 5pm. The festival concludes with a true OktoberFest Celebration and Dance with an Oom-Pah-Pah Band from 7 pm until 10 pm.
The Heart of the Festival
At the center of a traditional OktoberFest is a truly Authentic German Bier-Garten and mouth-watering German Fare, such as Brats, Sausage, Goulash, Sauerkraut and more. Open throughout the festival, the authentic German bier-garten boasts plenty of seating and room to dance for all festival goers to enjoy. The bier-garten and food open Friday and Saturday at noon and go well into the night-time festivities.
A Story to Tell
A unique feature of "OktoberFest at the Bay" is Fairfield Bay's fifth annual StoryFest. Each year, Fairfield Bay invites some of the best national storytellers to share their talent in the Ozarks and bring a smile and laugh to a face.
Activities for StoryFest are suitable for any age and will captivate all. Morning storyteller sessions begin at 9:30 am Saturday and the afternoon sessions begin at 1:30 pm. All performances will be at the Performing Arts Center in the Fairfield Bay Conference, Art and Visitor Center. Storyteller sessions this year feature Bil Lepp's tall tales and Tim Tingle's Choctaw stories.
Bil Lepp has won international acclaim for his humor and storytelling. His exaggerated tales are told with not only humor and wit, but also a "morsel of truth on universal themes." An award winning author and recording artist, Lepp published a children's book in 2013 which is still winning its own awards. For more on Lepp, visit his website at LeppStorytelling.com
Tim Tingle is an Oklahoma Choctaw, author, performer and historian. He began collecting tribal stories in the early 90's as a "response to the scarcity of Choctaw lore." Since starting his focus on the Choctaw tribe, Tingle has retraced the Trail of Tears, interviewed fellow Choctaws, penned successful historical fiction novels, produced a documentary film, and has been a featured storyteller at festivals in some forty-two states. His Choctaw stories are well respected for their historical significance and described as lively performances, sometimes including Choctaw songs with a Native American flute and his own whaleskin drum. Visit Tingle's website, TimTingle.com, for more information.
Tickets & More Information
OktoberFest is held at Fairfield Bay's Conference, Art and Visitor Center located at 110 Lost Creek Parkway in Fairfield Bay. Tickets for StoryFest are $10 in advance and $15 at the door. To purchase tickets, find a complete list of events, times and more information, visit FairfieldBayStartsToday.com/OktoberFest or call 501-884-4202.
This program is supported in part by the Arkansas Arts Council, an agency of the Department of Arkansas Heritage, and by the National Endowment for the Arts.