OktoberFest and StoryFest – Unique Traditions Not to Miss in the Ozarks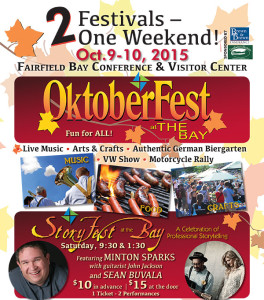 Fairfield Bay is celebrating fall with two festivals in one on Oct. 9 and 10: the Second Annual OktoberFest and StoryFest, which is a celebration of professional story telling. Held annually at the Fairfield Bay Conference and Visitor Center, this event is growing in festivities!
"Our community enjoys celebrating the seasons and welcoming others to our beautiful Bay. A true OktoberFest includes hearty food, lively music and is a great big community celebration – exactly what we want to share along with our storytelling here in Fairfield Bay." said Paul Wellenberger, Fairfield Bay Mayor.
Visitors to OktoberFest will find a traditional German OktoberFest celebration full of authentic German fare and Biergarten, as well as music, arts, crafts and so much more.
Activities for All
Free and open to the public, OktoberFest begins at 11 a.m. on Oct. 9 ending at 10 p.m.
Local arts and crafts will be displayed for show and sale until 6 p.m.. German food, music and dance will round out the day's events.
On Oct. 10, the festival opens at 9 a.m. Thunder in the Bay, the motorcycle rally sponsored by the Fairfield Bay Chamber of Commerce, rolls from 9 a.m. until 4 p.m., and a Volkswagen "Show and Shine" is open until 5 p.m.. The festival concludes with a true OktoberFest celebration and dance, with an Oom-Pah-Pah band playing from 7 – 10 p.m.
The Heart of the Festival
At the center of a traditional OktoberFest is a truly authentic German Biergarten and mouth-watering German fare, such as brats, sausage, sauerbraten with spaetzle, sauerkraut and more.
Open throughout the festival, the authentic German Biergarten boasts plenty of seating and room to dance. The Biergarten and food sales open Friday and Saturday at 11 a.m. and go well into the nighttime festivities.
A Story to Tell
Along with OktoberFest, Fairfield Bay will be hosting the sixth annual StoryFest. Each year, Fairfield Bay invites some of the best national story tellers to share their talents and bring a smile and laugh.
Story teller sessions this year will feature Sean Buvala and Minton Sparks. Activities for StoryFest are suitable for any age and will captivate all. Morning story teller sessions begin at 9:30 a.m. Saturday, and the afternoon sessions begin at 1:30 p.m. All performances will be at the Fairfield Bay Conference and Visitor Center.
Sean Buvala has been story telling "on the road" for decades. He's an author, a recording artist, and trainer. His charismatic and animated speaking style is self-described as somewhere in between "in your life and in your face."
He describes the collection of stories in his head as "life and legend" representing the mix of stories from his experiences, myth and legend from many cultures, sacred stories and observations of shared life events. For more on Buvala, visit his website www.seantells.com.
Minton Sparks is a decorated poet, playwright, and author, as well as a blue collar troubadour who has performed at Lincoln Center. Minton's tales are hilarious, humble, and heartbreaking. Her spoken word/honky-tonk hybrid performances elicit whoops and hollers from her audience.
As John Prine aptly put it, "Minton Sparks is a great story teller—humanity with humidity—all told humorously with humility."
Minton is Nashville's first nonsinging country singer. She travels with longtime bandleader and guitarist John Jackson, who is a seasoned road warrior who has played with the likes of Bob Dylan, Lucinda Williams, Shelby Lynne, and Tom Jones. For more on Minton, visit her website www.mintonsparks.com.
Special Thanks to our Corporate Sponsors: Goodwin & Herman, and Brown & Brown.
Mark Your Calendars for another fun Fairfield Bay celebration coming up: Festival of Trees
Festival of Trees
December 1 – 12
Mark your calendar now for our second annual Festival of Trees. This Holiday celebration showcases a little winter wonderland at the Fairfield Bay Conference & Visitor Center. To learn more, visit www.FairfieldBayStartsToday.com/Festival or call 501-884-4202