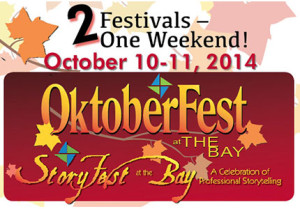 Fairfield Bay is celebrating fall with TWO FESTIVALS in one – a traditional German Oktoberfest and Storyfest,The Arkansas storytelling event, on Friday, October 10 and Saturday, October 11.
"As Fairfield Bay began to plan this year's StoryFest and fall event, we realized that we wanted to turn our fall festival back into the OktoberFest we have celebrated in the past," said Paul Wellenberger, Fairfield Bay Mayor. "Our community enjoys celebrating the seasons and welcoming others to our beautiful Bay. A true OktoberFest includes hearty food, lively music and is a great big community celebration – exactly what we want to share along with our storytelling here in Fairfield Bay."
A true Oktoberfest includes hearty food, lively music and is a great big community celebration – exactly what you'll find in Fairfield Bay:
•Authentic German Bier-garten & fabulous German Fare
•Volkswagen show & Motorcycle ride
•Arts and Crafts
•Live music each night – including Oom-Pah-Pah band
Oktoberfest goes to 10 pm both nights.
STORYFEST
For five years now, Fairfield Bay has held the only professional storytelling event in Arkansas at its annual StoryFest. It's a unique highlight to Oktoberfest, making a festival within a festival. Storytelling provides a way of passing down live history and can take you back to a simpler time. Keeping with that idea, this year's storytellers are: Bil Lepp, known for his tall tales with universal themes, and Tim Tingle, respected for his historical Choctaw stories. For more on Lepp, visit his website at LeppStorytelling.com. Visit Tingle's website, TimTingle.com, for more information.
Tickets & More Information
OktoberFest is held at Fairfield Bay's Conference, Art and Visitor Center located at 110 Lost Creek Parkway in Fairfield Bay. Tickets for StoryFest are $10 in advance and $15 at the door. To purchase tickets, find a complete list of events, times and more information, visit FairfieldBayStartsToday.com/OktoberFest or call 501-884-4202.
This program is supported in part by the Arkansas Arts Council, an agency of the Department of Arkansas Heritage, and by the National Endowment for the Arts.