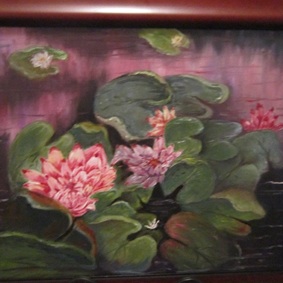 New oil painting class at Community Ed. Center will begin Thursday, May 1, and meet each Thursday at 9:30 a.m. – 11:30 a.m. for five weeks. Title of the new picture will be "Water Lilies." Students will learn the technique of layering lilies on water. Seeing the shadows in the background, then the pop of light contrasting color will make this painting lovely and eye catching. Pre-paired canvasses will be available at class for purchase.
Brushes needed for the class are: soft # 6,8,10 liner brush # 1, stuby brush (can be purchased at class),
Oil color paints needed: Ultra marine blue, white, alizarin crimson, tera verda green, cadium yellow medium, sap green, burnt umber.
For additional information about the class, call Doris Sexson, 884-6702 or the Community Education Center, at 884-4440.