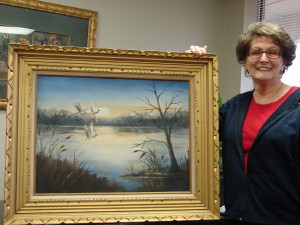 Doris Sexson's next Beginner to Intermediate Oil Painting Class begins Thursday, February 21 from 9:30 – 11:30 a.m. for 5 weekly sessions at the Community Education Center in Fairfield Bay @ $35.
"Ducks in Flight" is the name of the painting, shown here. Depicted is a misty, cool morning in Arkansas. Everyone is welcome to attend but there is a maximum class size so sign up early, please.
Supplies needed for the class are as follows: Brushes needed are: Bristle brushes, size #6,8 or 10., Bristle stubby brush – (can purchase in the class), Liner brush, size #1 – can purchase in the class, Soft mop brush – size #10 or 12. Paint colors needed: White, Cadmium Orange, Ultra Marine Blue, Burnt Umber. Call the FFB Comm. Ed. Center with questions at 884-4440. Office Hours are Monday thru Thursday from 9 a.m. until 4 p.m.