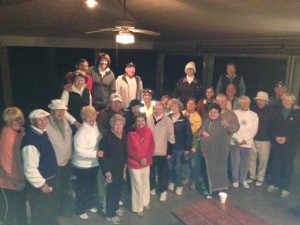 Fifty-five golfers braved the cool temperatures and played a nine hole scramble in the dark on a lovely Sunday evening. Special guests golfing were the Shirley High School boys and girls golf teams. Golfers enjoyed hot chili and appetizers prior to teeing off and desserts following golf. Winners for the event are as follows:
First Flight:
1st: Jim & Shirley Rudolph, Amy Harrod, Rose Shurts
2nd: Toby & Diane Glyde, Vic & Patti Manville
3rd: Ernie & Gail Campbell, Henry & Charlene Burge
Second Flight:
1st: Elvis & Lois Randall, John & Rose Teer
2nd: Wally & Nancy Mueller, Larry & Gesine La Dage
3rd: Connie Beaumont, Bill Wampler, Jack Keathley
Hosting the event was Jim & Phyllis Wilkins, Mueller's, and the Campbell's.