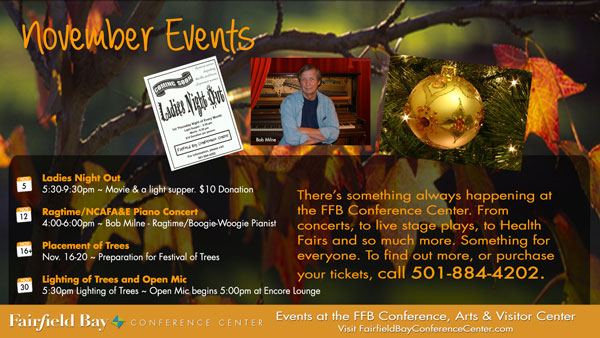 Join us for all the great events at the Conference & Visitor Center.
November 5 – Ladies Night Out (Movie and Light Dinner)
November 12 – NCAFA&E Concert – 4pm – 6pm – Bob Milne – Ragtime/Boogie-Woogie Pianist
November 16 – 20 – Placement of Christmas Trees in Conference Center preparing for Festival of Trees. Getting Exciting around here! Such joy.
November 30 – Lighting of Trees in Conference Center and Open Mic Night at Encore Lounge – Tree Lighting at 5:30, Encore open from 4 til? Open Mic starts at 5pm.
Mark Your Calendars for another fun Fairfield Bay celebration coming up: Festival of Trees
Festival of Trees
Nov 30 – Dec – 12
Mark your calendar now for our second annual Festival of Trees. This Holiday celebration showcases a little winter wonderland at the Fairfield Bay Conference & Visitor Center. To learn more, visit www.FairfieldBayStartsToday.com/Festival or call 501-884-4202
Ready for an Encore?
While at the Conference Center, enjoy an "ENCORE" celebration at our Newly opened bar just located off the lobby–opens pre-show and during intermission for drinks and socialization. ENCORE opens at 5:30 p.m.
For Lodging: www.FairfieldBayConferenceCenter.com, or call 501-884-4202.