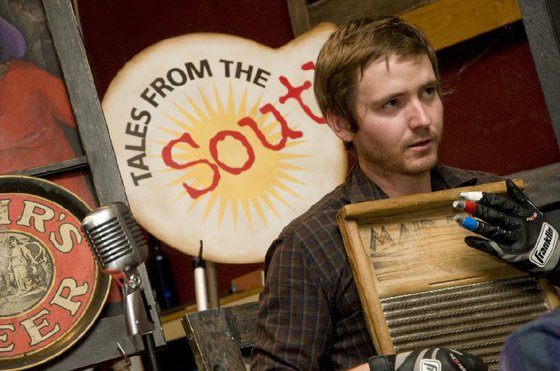 "Tales from the South" is a showcase of writers reading their own true stories. While the show itself is unrehearsed, the literary memoirs have been worked on for weeks leading up to the readings. Stories range from funny to touching, from everyday occurances to life-altering tragedies.
"Tales from the South" is uniquely Southern, in that while we don't require that stories are set in the South (though a majority are), writers must be either originally from the South or live here currently, and the distinct Southern art of storytelling rich in language, detail, and voice is alive in all of them. Contributors are from all walks of life and include professional writers as well as those who have never been published.
Along with the storytelling, we also have live music by different Southern musicians who continue the storytelling tradition and play everything from folk to blues to bluegrass, and more. Musicians play during dinner. Acclaimed blues guitarist Mark Simpson plays the blues live each week during the taped portion of the radio show.
Listen up!
We air on Thursdays at 7pm on KUAR (FM 89.1) in Central Arkansas, and you can hear the show worldwide via streaming audio at www.kuar.org Our show rebroadcasts at 9am CT Sundays (UTC 5) on World Radio Network (www.wrn.org) on the WRN English Europe channel. In Europe we air on satellite radio and cable TV at 15:00 UTC on Sundays (click here for Satellite information). We are also distributed by PRX and are heard on multiple Public Radio stations across the country.
You can listen to archived shows on ITunes, PRX, the NPR website, the KUAR website, or here.
About Tales
"Tales From the South" is a radio show created and produced by Paula Martin Morell, who is also the show's host, in conjuction with Temenos Publishing Company. The show is presented by The Argenta Arts Foundation with additional support provided by AY Magazine, The North Little Rock Visitors' Bureau, and William F. Laman Public Library. The show is taped live on Tuesday nights at Starving Artist Cafe' in the Argenta Arts District of North Little Rock, Arkansas.