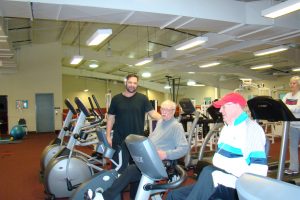 Chris Matthews, the Fitness Director at the Hart Center in Fairfield Bay, invites you to come and get a week of personalized training and begin the journey to a better looking and better feeling you.
Each week offers a variety of classes that will help you reach your fitness goals. Classes include Water Aerobics (Aquacise), Mon, Wed and Fri at 8 a.m., or 9 a.m. Mon – Fri and 5 p.m. Tues and Thur. A class that is becoming popular is the Adult Athletics class which is more strenuous than the other classes. There is a Silver Fit Geri-Fit class on Tuesday at 9 a.m., which is a seated exercise class and of course the regular Silver Sneakers class on Mon, Wed and Fri at 10:30 a.m. (All members are able to attend both Silver Sneakers and if you're not a member and you insurance covers it you may attend.
For those that enjoy Yoga, there are classes on Mon, Tues and Thur at 10 a.m. with Aqua Yoga on Wed at 10 a.m. and Mon at 5 p.m. There is a Restorative Yoga class as well on Wed at 11:30 a.m.
Another great and fun activity is the ever growing popular sport of Pickleball, played everyday in the basketball court area beginning at 12 p.m. to 3 p.m.
"All members and guests that purchase a punch card, receives a week free of personal training which includes a diagnostic, goal setting and light physical stress test.
"The equipment that we offer here at the Hart Center is only found at larger cities or a college campus. We offer a very thorough and complete system of equipment to help achieve your fitness goals. The Hart Center is available and affordable for everyone. Call us today to find out more information at 501.884.7777," said Chris
The Hart Center is open seven days a week, Mon – Fri 6 a.m. to 7 p.m., Sat 8 a.m. to 4 p.m. and Sun 1 p.m. to 6 p.m.
On a personal note: I have been training with Chris and highly recommend his services. He is extremely knowledgable and will watch to make sure you do not over exert yourself.
Dan Feuer
Editor