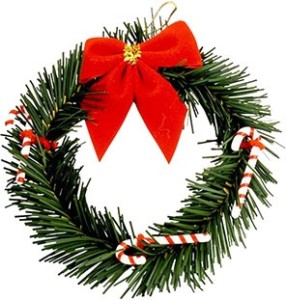 Two sorority chapters have merged this fall in an effort to continue serving the ideals of Beta Sigma Phi. The Annual Wreath sale and luncheon previously planned by the Eta Beta Chapter will offer a new format this year with the help of Xi Gamma Zeta members.
In years past, as the Eta Beta event grew in proportion, it also grew in popularity, so the Fellowship Hall at the Fairfield Bay Baptist Church was the ideal setting to showcase the wreaths and enjoy lunch. HOWEVER, this year, even with the two chapters merging, we have just a few members and fewer wreaths. We chose a new format so you wouldn't be disappointed, thinking the event would be the same as previous wreath raffles.
The wreaths will be on display in the ballroom at the Conference Center during the Festival of Trees, November 23 to December 13. The sorority will serve desserts and coffee on Sunday, December 13 at 2 p.m. where you'll be able to buy raffle tickets and make your final wreath choices. In case you have not attended a wreath raffle, here's the way it works. You buy as many raffle tickets as you want (they're 6 for $5), but you only put your tickets in the baskets next to the wreaths you really want. So, if a certain size or color wreath doesn't work for you, you won't put your ticket in that basket. It's a fun way to take a chance on winning. The wreaths will all be "Christmas" themed this year since the chapters merged late in the season. Tickets for $5 will be available soon at the Conference Center for the Dessert Bar, then you can purchase your raffle tickets at the event.
Stop by the Conference Center to look at the wreaths as you enjoy the variety of decorated Christmas trees on display. The Sunday, December 13 event will be your last opportunity to view the trees before they go to their homes, so take advantage of the opportunity to enjoy the afternoon with your spouse and friends. Mark your calendar now to help these two chapters continue the wreath tradition.
Proceeds from the event will be used to support local charitable organizations, a sorority tradition.