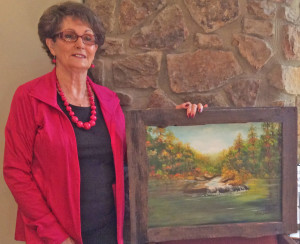 Doris Sexson's next oil painting class at the FFB Community Education Center will be painting a picture entitled "Fall Colors," the wonderful colors we will be seeing around Fairfield Bay. The class will begin on Thursday, October 22 and meet for 5 weeks at 9:30 a.m. Students should contact Catherine Swift at the Community Education Center at 884.4440 to enroll.
Supplies needed for the class include the following: paint pallett, colors: white, cad yellow medium, cerulean blue, raw sienna, sap green, terra vera green, cad orange, burnt umber and yellow ocher.
Brushes: bristle size 8,6, liner, soft mop, stubby (can purchase at class), 16×20 canvas (purchase at class), Liquin, paper pallette and paper towels.
For more information, contact Doris at 884.6702.