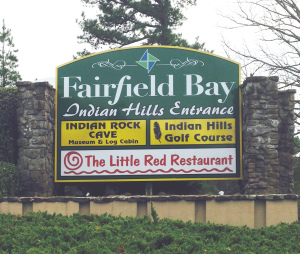 New signs proclaiming the Bay's "City of Distinction" award for our quality of life have been attached to our city limit signs and the main entrance now features all new, LED street lights welcoming guests arriving after dark.
A beautiful new billboard now exists in Greers Ferry on westbound Hwy 16, replacing the previous Little Red Restaurant Board. The new board serves a dual purpose alerting lake area guests not only about the Little Red Restaurant, but also promoting visitors to download our new FFB App on their mobile devices.
The Indian Hills entrance now announces to all travelers that there are numerous wonderful reasons to enter the Bay at this location – The Little Red Restaurant, Indian Hills Golf Course and Indian Rock Cave including the museum and cabin.
Check them all out next time you are passing by!
REMINDER
CITY/CLUB TOWN HALL
MARCH 31, 5 P.M.
CONFERENCE CENTER