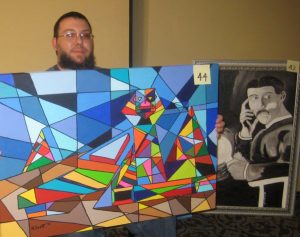 Nelson Scott, describes himself as a self- taught, bipolar artist. He comes from a family of commercial artists in Michigan. His biological father was a successful commercial artist as are two of his brothers. Brother, Victor, has been on tour with The Dave Mathews Band, creating art for them and brother, Tony, did some work for the band Pink Floyd in the late nineties.
Nelson has lived in Fairfield Bay for five years with wife, Cari, & daughter, Melisa.
Nelson remembers in kindergarten, the class was asked to draw what they wanted to be when they grew up. Amongst the policeman, firefighters, and astronauts he was the only one that wanted to be an artist. It has always been his dream, his passion. His inspiration comes from many places. He started drawing his favorite comic book characters when he was a young teenager. Vincent Van Gogh has always been a huge inspiration for him. He can identify with the troubled mind that created those beautiful works. He says that there's not a subject he wouldn't try to capture on canvas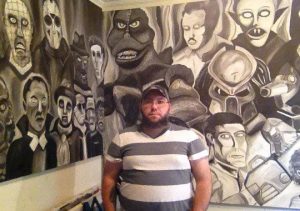 He hopes one day to use his growing skills as an artist to help others suffering with Bipolar Disorder, as he does. Art has helped him through some of his lowest points and soared with him through the highest. He says Art has always been there for him.
Nelson won best of show in the Van Buren County Fair for an oil painting of Nickola Telsa, and a blue ribbon for the reproduction of Edward Munch's The Scream. At the district fair he received a blue ribbon for his oil painting of Nickola Telsa that went on to win best of show at the Arkansas State Fair.
Nelson set a goal of 30 paintings this year as a New Year's resolution. He currently finished number 33 as of May.
Nelson's goal at this moment is to get his work out into the world. He truly wants to become a part of the art communities in Arkansas. He says," I hope to one day open a gallery to feature the works of people with mental disorders. Art helps me in so many ways; that's something I wish to share with others, the healing power of art." You can see more of his art on voidmachinearts.com website and in the new art exhibit in the NCA Art Gallery/Fairfield Bay Conference Center.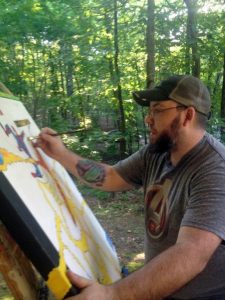 The North Central Arkansas (NCA) Art Gallery's mission is to bring quality Fine Art to our community with good taste & family values. The artists are professionals as well as emerging new artists. The artwork is open to all Artist and chosen by a selection committee under the direction of Coordinator, Charlotte Rierson. Art Gallery hours are Mon. Thru Sat. 9 a.m.-5 p.m. unless special events or conferences then the hours will be extended. The viewing of the Art is open & free of charge to the public. All art is available for purchase. The NCA Art Gallery is sponsored by the North Central Arkansas Foundation for the
Arts & Education (NCAF&E) in collaboration with The City of Fairfield Bay. For more information contact NCA Art Coordinator, Charlotte Rierson-501-884-6100, email [email protected] or Conference Center Directors, Wilba or Bob Thompson for more information- 501- 884-4202, 110 Lost Creek Parkway, Fairfield Bay 72088.