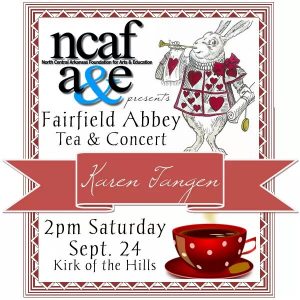 On September 24, 2016, NCAFAE will sponsor a Concert/Tea Party at the Kirk of the Hills Presbyterian Fellowship Hall; 250 Dave Creek Parkway; Fairfield Bay; 2-4 p.m. The Alice in Wonderland theme will provide lots of fun and merriment for all who attend. Classical piano music will be provided by Karen Tangen.
Karen Tangen arrived in Fairfield Bay to live permanently in March of 2014, although she has had a house here since 2006. She moved here from Phoenix, Arizona to join her brother and his wife, Tom and Linda Tangen. She lived in Phoenix for 28 years working with Southwest Airlines, in a variety of positions which took her all around the United States. She was born in Montana where she began her journey with the piano at the "ripe old age of 6 years," and studied piano until she entered college. Today Karen provides music for the Sunday service at St. Francis Catholic Church in Fairfield Bay.
Be sure to join us for a fun afternoon on September 24. As always, NCAFAE events are held for the purpose of bringing musicians, artists and artistic displays into the community and surrounding schools in an effort to provide enjoyment and education. Tickets are $12 in advance and $15 at the door.
For additional information or tickets please consult a NCAFAE Board Member or call 501-940-7493 (Lea Berry) or 903-530-9521 (Kimberley Walker).