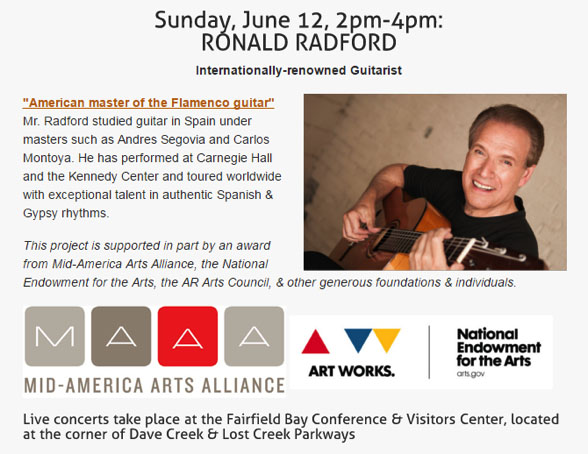 The North Central Arkansas Foundation for Arts & Education (NCAFA&E) announces that it is among a select group of regional artists and presenters to receive a Mid-America Arts Alliance grant. This award will support an upcoming performance of internationally-renowned guitarist Ronald Radford at the Fairfield Bay Conference & Visitors Center on June 12, 2 p.m. Mr. Radford, a seasoned concert artist & educator, is known as the "American Master of Flamenco Guitar" and will also make special guest appearances at the following locations:
•Ozark Health Nursing & Rehab Center in Clinton, 2 p.m. June 11
•Indian Rock Village in Fairfield Bay, 10 a.m. June 12
•Shirley Senior Center, 10:30 a.m. June 13
Funding for the NCAFA&E grant is drawn from generous underwriting by the National Endowment for the Arts, the Arkansas Arts Council, and foundations, corporations, and individuals throughout Arkansas, Kansas, Missouri, Nebraska, Oklahoma, and Texas.
Mid-America Arts Alliance (M-AAA) strengthens and supports artists, cultural organizations, and communities throughout its six-state region and beyond. This is achieved primarily through national traveling exhibition programs, innovative leadership development, and strategic grant making. They are especially committed to enriching the cultural life of historically underserved communities by providing high-quality, meaningful, and accessible arts and culture programs and services. Each year M-AAA's programs, on average, reach one million people.
Mary Kennedy, M-AAA's Chief Executive Officer said, "NCAFA&E is to be commended for their commitment to serving their community with this distinctive event. Audiences in Fairfield Bay, Clinton, and Shirley will have the opportunity to see the exciting work of Ronald Radford, many for the first time. Mid-America Arts Alliance is proud to help support this work and NCAFA&E."
For further event information, contact Lea Berry at 501-884-6288. For more information about Mid-America Arts Alliance, visit them online at www.maaa.org.