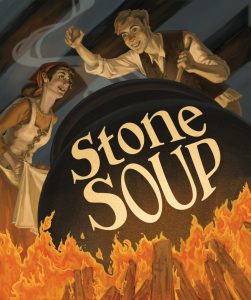 "One day, a lovable wanderer—down on his luck, lonely, and hungry—knocks on the door of a little house at the end of a long road. Though the house looks to be nearly as down on its luck as he, the traveler discovers a treasure within even more precious than a pot of delicious soup; he finds a friend. Earnest charm, playful imagination, and heart-warming music are the key ingredients in this fresh, tasty, nourishing new play."
The North Central Foundation for the Arts and Education (NCAFA&E) invites children of all ages and the young at heart, to enjoy this presentation at the Clinton Auditorium at 1 p.m. on February 17. Schools in the area will come to the auditorium by bus. If you are interested in joining in this fun event by van, call Heather at the Clinton Council on Aging (501-745-2544) and she will arrange a van pick-up if enough people are interested.
This no charge event is sponsored by NCAFA&E with the help of grants from the Arkansas Arts Council and support of community residents. For additional information call 501-884-6288 or 903-530-9521.