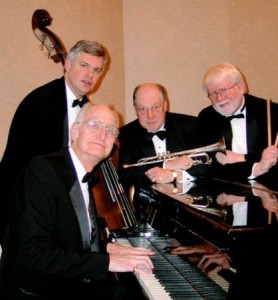 Mark your calendars NOW for Friday, October 31st, 2014. The North Central Arkansas Foundation for the Arts and Education invites you to an evening of fun and relaxation featuring the Bob Boyd Sounds. Festivities begin at 5:30 p.m. with finger foods ("cut-off finger foods") and drinks (plasma punch and voo-doo punch). Plus readings by Madame "G" which are sure to give you a totally new outlook on life. From 6-8 p.m., the Bob Boyd Sounds will present their Halloween looks and music, plus anything the guests would like to hear.
As you know, Bob Boyd needs no introduction to our community. He brings the big band sound with a small band size. The band always welcomes requests from the audience because in this way they know they have played what the audience really wants to hear.
Be sure to wear your best costumes. Prizes will be awarded throughout the evening for the best looks. However, if you feel your regular clothes are scary enough, come as you are.
The Halloween Bash and Concert will be held at the Fairfield Bay Conference Center; 110 Lost Creek Parkway; Fairfield Bay, Arkansas; on October 31. Tickets are $15.00 each and are available at the Central Arkansas Conference Center or from NCAFAE board members. This event is a collaborative effort between North Central Arkansas Foundation for the Arts and Education and the Arkansas Arts Council.