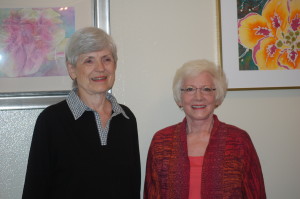 North Central Arkansas Artists League (NCAAL) members, Diana Foote and Carolyn Goettsch, will be honored with a reception hosted by Indian Rock Village, 265 Dave Creek Pkwy, Fairfield Bay, Wednesday, July 24 from 2 to 4 p.m. Their artwork is the featured exhibit in the upstairs dining room and downstairs gallery through August 15.
Diana Foote's formal education includes Bachelor of Science in Nursing from the University of Arkansas and a Master of Nursing in Community Health from the University of Kansas. Her informal art education began in Kansas, while she was still employed in various nursing positions. She has had a life long interest in art and has studied painting in watercolor, acrylic, pastel, collage and mixed media. She has taken art classes from nationally recognized artists David Clow, Ed Fenendael, Gail Flores, Gloria Garrison, Sheila Parsons, Carlton Plummer, Jim Ryon, Richard Stephens, Betty Lou Schlemm and Frank Webb. Diana's preferred art medium is watercolor. She enjoys painting from nature and using an abstract format for her subjects. Currently, she belongs to NCAAL and the Mid-Southern Watercolorists. Diana and her husband Mike, live in Clinton, Arkansas.
Carolyn Goettsch moved to Arkansas, from Iowa, in 1971, to escape the cold winters. She tried oil painting in Iowa but became serious when she joined a watercolor group at the Sheperd Center in North Little Rock. She took lessons at the Art Center in Little Rock and joined the Arkansas League of Artists before moving to Edgemont. She has taken classes in drawing, acrylics and watercolor at Arkansas State University in Heber Springs. Her favorite subjects are landscapes and pictures from her extensive travel experiences through missions trips and more recently, with Heifer International. In August she will be traveling to Quito, Equador and the Galapagos Islands. She enjoys gardening and has been a Master Gardener for 18 years.
The public is cordially invited to attend the reception and to visit with the artists. For further information contact Connie Hood, IRV Gallery Coordinator at 884-3283. Pictured above is Carolyn Goettsch, left and Diana Foote, right.