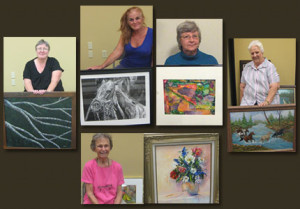 The North Central Arkansas (NCA) Art Gallery located in the Our Towne Conference & Victors Center; Fairfield Bay is featuring artists that had artwork selected to be in the current exhibit that opened October 12, 2013. Thirty two Artists participated. The artwork includes Paintings, sculpture, pottery, and photography. The 2014 Spring Exhibit Opening and Reception is March 9.
March featured Artists: (see attachment for photos of each artist to be arranged into a collage for the press release.
1.Rosalie Musial – started painting with oils about 30 years age. She later discovered soft pastels and knew that this was what she wanted to use forever. As an artist she loves to do portraits of children, pets, animals and even landscapes. This lets her use the realism style that she enjoys most. Rosalie lives in Greenbrier
2.Sandra Marson – lives in Jacksonville, Arkansas. She has a BA from UALR. She is a member of North Central Arkansas Artist League, Arkansas League of Artist, Mid-Southern Watercolorists, and Missouri Watercolor Society and Arkansas Artist Registry. Her work has shown at the Butler, the Rep, Cantrell Gallery, Terry Mansion in Little Rock, and in El Dorado, Searcy and Hot Springs Galleries. Using the principals and elements of design, she weaves shapes, colors and texture together to create unity in her abstract works of art.
3.Alison Shreck – was born and raised in Australia and trained as a Registered Nurse in Sydney. Moved to the States at the age of 21 to travel and work as a nurse and chose Arkansas. Met her husband while visiting Fairfield Bay and after traveling around the U.S. for 3 years chose Fairfield Bay as a beautiful place to live. She currently works as an Emergency Room Nurse at Ozark Health Medical Center in Clinton AR. after a friend gave her a set of oil paints as a birthday present in 2006 she decided to try them out and loved it. Now paints with watercolor and oil and enjoys painting with other people – hates to paint alone!
4.Mary Shelton – took art classes at the Art Instruction School in Minneapolis, Minnesota. Upon the completion of this course, she entered Arkansas State University at Beebe, where Mary received an Associate of Arts Degree. She continued art education at the University of Arkansas at Little Rock and received a Bachelor of Arts degree in Studio Art and Masters of Art degree in Studio Art. Her major concentration is placed on the art elements and principles of design and is applied to her present subjects. When she paints she limits herself to basic shapes and rhythmic motions and uses a primary color palette to form vivid hues that she has become known for. Mary is a member of the North Central Arkansas Artist League and resides in Cabot.
5.Jeanne Homuth – moved to Fairfield Bay in 1977, and she immediately started working with a few other artists in an empty storefront in "Old Town". Entirely self- taught with a smattering of workshops, she executes both oils and watercolors. Her style can be expressed as somewhat impressionistic with the color flowing effortlessly through each of her works. Jeanne is open to try many new techniques, but above all else is her desire to paint particularly flowers from reminisces of her grandparent's farm. Her love of painting and the area surrounding her inspires Jeanne to create works of art that depict scenes of Arkansas grandeur.
For more information contact NCA Art Gallery Coordinator, Charlotte Rierson 501-680-2741, [email protected] or Conference Directors Wilba and Bob Thompson, 501-884-4402, [email protected], or [email protected] The NCA Art Gallery in the Our Towne Conference & Visitors Center is located at 110 Lost Creek Parkway, Fairfield Bay. Hours for viewing the art are Mon. –Fri. 9:00 am-5:00 pm or extended times for special events.