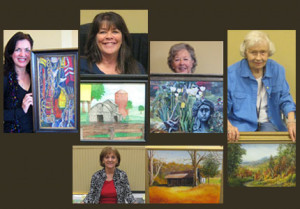 The North Central Arkansas (NCA) Art Gallery invites you to visit & view the new Art Exhibit. The Artwork includes paintings, photography, sculpture, fusion glass, stain glass, and pottery.  The gallery is held in the Our Towne Conference & Visitors Center in Fairfield Bay. The NCA Art Gallery brings quality Fine Art to our community with good taste & family values. The artwork is open to all artists & is juried by a selection committee under the direction of Art Coordinator, Charlotte Rierson.
Art Gallery hours are Mon. thru Fri. 9:00-4:00 unless there are special events or conferences then the hours are extended.  The viewing of the Art is open & free of charge to the public. All the art is available for purchase.
The NCA Art Gallery is sponsored by the North Central Arkansas Foundation for the Arts & Education (NCAF&E) in collaboration with The City of Fairfield Bay.
For more information contact NCA Art Coordinator, Charlotte Rierson-501-680-2741, email [email protected]  or Our Towne Conference & Visitors Center Directors, Wilba or Bob Thompson for more information-   501- 884-4202,   [email protected], 110 Lost Creek Parkway, Fairfield Bay 72088.
The following are the featured artists being showcased:
Melva King will be celebrating her 92nd birthday this year. She was awarded the First "You Make a Difference" Art Award for the North Central Ark. Artist League in 1999. She and husband Alex settled in Fairfield Bay in late 1970. Melva had a nursing career when she retired from the military. She has taken extensive art classes in different media's, including oil, watercolor, sculpture drawing, and pastels. Melva is one of the charter members of the North Central Arkansas Artist League and a Past President. She paints on a regular bases and exhibits her artwork in various galleries sponsored by the NCA Artist League.
Rebecca Loftis of Heber Springs is an art student that continuously looks for what she likes to paint. Her favorite subjects are people, animals and trees. She received a BBA from UCA in1980 and has taken several art classes since then, including life drawing at UALR with Stephan Cefalo, portraiture with Betty Dortch Russell at the LR Art Center and general classes with Janelle Selvidge at ASU.  Rebecca enjoys studying the old masters techniques and hopes to continually improve her artwork.
Shelly Wheeler moved to Fairfield Bay in 2004 from Kansas City, Missouri.  She is currently an LPN at a nursing home in Conway, Arkansas.  She stopped drawing to take care of her children and is happy now that she has time to pursue her art. Shelly loves drawing with colored pencils.
Kathleen Hadley, a native of northeastern Iowa, came to Fairfield Bay in the fall of 2001 after her husband's retirement from an almost 25 year Air Force Career.  Kathleen graduated from the University of Northern Iowa with a degree in teaching Art.  She later received a Master Degree in Reading and Curriculum and Instruction from New Mexico State University.  Her main interest has always been art history.  She has made a point to visit many of the museums in her travels and has met a great number of practicing artists.  The stunning beauty of the state of Arkansas has been a wonderful focus for inspiration in her recent art.
Pamma Lee Henderson is a former art educator. She & husband Robert  moved to Edgemont about 6 years ago. Pamma is a board member of the North Central Arkansas Foundation of the Arts & Education and an active member of the North Central Arkansas Artist League. She loves to create art in any medium.  Pamma additionally says she especially enjoys being a "professional" volunteer!