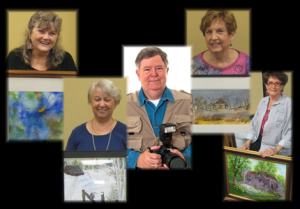 The North Central Arkansas (NCA) Art Gallery in Our Towne Conference & Visitors Center is featuring their artists' artwork. The exhibit will be up until  March 3. The art gallery is show casing 32 artists throughout the exhibit. The exhibit includes paintings, pottery, sculpture and photography. The feature artists for this month are Doris Sexson, Sue Allen Pico, Judy Shumann, Pauline Sears and photographer Lee Phillips. These Artists are available to give art tours and answer questions. If your group would like to schedule a tour, please contact our Conference Directors, Bob & Wilba Thompson. 
Doris Sexson has worked to develop her artistic skills for 60 years.  She has taught visual art in 5 elementary schools. She continues to teach and stimulate her student's creativity through classes she teaches at Fairfield Bay Education Center and at her home studio.  She recently painted a mural of Shirley, Arkansas, as it was in 1911. Other murals painted by Doris are at IRV, Fairfield Bay Heart Center and the Senior Center. Doris is an active member of the NCA Artist League and displays her art in their exhibits. 
Sue Allen Pico is a Summa Cum Laude graduate from Northern State University of Aberdeen, SD with a double major in Fine Arts and Cumulative Art Education,. She spent 10 years as executive director of the North Central Arkansas Foundation for the Arts and Education, and is on the Artists in Education Roster for the Arkansas State Arts Council. Her personal art focus is watercolor, original, Ukrainian-style egg designs, and "stick" & ink. 
Judy Shumann studied art at California State College, Northridge where she did extensive work in all art media, including photography and ceramics.  She enjoys watercolors because of the flow of the colors, "every stroke of the brush is a new experience and often the result is a delightful surprise."  Judy is affiliated with the North Central Arkansas Artists League and the Conway League of Artists.  She is presently exhibiting her work in various locations in Arkansas. Judy and her husband, Bill, currently reside in the Greers Ferry Lake area of Central Arkansas.
Lee Phillips is a retired Media Specialist who now enjoys teaching Computing and Digital Photography classes as an Adjunct Instructor for Arkansas State University at the Fairfield Bay Community Education Center. His award winning photographs have been featured at three area exhibits. Lee heads up the Photography section of the art gallery.
Pauline Deller-Sears, was born in Northern Michigan and attended Harrisville Consolidated School in Harrisville Michigan.   As a rural school, art classes were not offered.  She began her painting career in 1970, with acrylic as a medium.  Her first oil painting class, in 2001, was in the style of artist, Bob Ross.  She has since taken oil painting classes from renowned artist, Bill Garrison, local Fairfield Bay artist, Doris Sexton, plus other oil and watercolor artists.  Drawing classes from various artists followed. 
The Art Gallery is open to all artists and is juried by a selection committee.  All the artwork is available for purchase.
The NCA Art Gallery is sponsored by the North Central Arkansas Foundation for the Arts & Education (NCAF&E) in collaboration with The City of Fairfield Bay. For more information or purchase of Artwork, contact Our Towne Conference Center Directors, Wilba or Bob Thompson-  501- 884-4202, 110 Lost Creek Parkway, Fairfield Bay 72088.