The North Central Arkansas (NCA) Art Gallery is featuring Guest Artist Van Swink
Van L. Swink, Jr.'s artwork is the featured art for the month of Aug. Van was self-taught artist who enjoyed working in many different mediums and a veteran of many juried art shows, one man shows and exhibits. His works have been displayed in many art galleries and some of his works are in private collections in this country and abroad. Some of the awards he had won are the Gold Grumbacher Medal for Best of Show, first place award from art shows such as the Midwest Salute to the Masters, Quiney Art Center, Jefferson National Expansion Historical Association Art Show and others. In the Art Community he held many positions and was a member of the Board of Directors of the Northside Art Association and the St. Lewis Artist Guild. He was also president of the Swink & Lugger Gallery and was president of the University Art Guild Association, a member of the North Central Arkansas Artist League, and Conway League of Artists. On display are some of his works in the different mediums he loved. Van was on the NCA Art Gallery Board of Directors and is very much missed.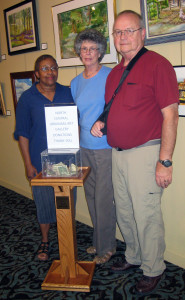 Note: A memorial fund was set up in Van's honor and donated to the Art Gallery. Bob & Sharon Berdine graciously designed, constructed and donated a pedestal for the new donation box in Van's honor. A plaque in memory of artist Van Swink is on the pedestal. We hope that all enjoy the artwork in our gallery and give a donation to help continue making it possible to bring quality art with family values to our community,
About the NCA Art Gallery
The NCA Art Gallery is located in the Fairfield Bay Conference & Visitor Center. You are invited to visit & view the Art Exhibit. The Artwork also includes paintings, sculpture, fusion glass, stain glass, and pottery. The artwork is open to all artists & is juried by a selection committee under the direction of Art Coordinator, Charlotte Rierson. Art Gallery hours are Mon. thru Fri. 9:00-4:00 unless there are special events then the hours are extended. The viewing of the Art is open & free of charge to the public. All the art is available for purchase. The NCA Art Gallery is sponsored by the North Central Arkansas Foundation for the Arts & Education (NCAF&E) in collaboration with The City of Fairfield Bay. For more information contact NCA Art Coordinator, Charlotte Rierson-501-680-2741, email [email protected] or Our Towne Conference & Visitors Center Directors, Wilba or Bob Thompson for more information- 501- 884-4202, [email protected], 110 Lost Creek Parkway, Fairfield Bay 72088.
Shown in the photo are Sharon & Bob Berdine, and Inez Swink , Van's widow, with pedestal and donation container.