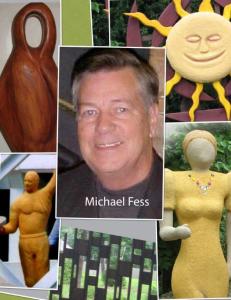 The North Central Arkansas (NCA) Art Gallery is showcasing Guest Artist is Michael Fess.
Sculptor & Author, Michael Don Fess is the featured artist at the NCA Art Gallery/Fairfield Bay Conference Center through October. He carves wood and stone and will display several of his large pieces that have never been seen in Arkansas. His art has been sold across the U.S. from California to Florida since 1994. Along with his sculpture he will have a book signing at the OktoberFest/StoryFest at the Bay, October 10 & 11. Michael's sculpture shapes are suggestive -not copies of nature, and his goal is to create beauty in shapes that have never been seen before. The Limestone pieces are often combined with wood to help create a harmonious blend. His work has been shown in countless exhibitions throughout Louisiana, Arkansas, and Texas.
Michael is an Arkansas native, having grown up in Magnolia. While living in Shreveport Louisiana for forty years, he formed the Red River Sculpture Society with six other sculptors. He was inducted into that Regional Sculpture Hall of Fame in 1998 and moved to Little Rock in 2001.
His "hobby" became a serious effort to create after being goaded into his Debut Art Show at Centenary College in 1994 by a nationally-known artist, Jerry Wray. He has been a Director of the Arkansas League of Artists and a member of the Arkansas Sculptors Guild. His gallery is now located at his home in Little Rock.
Creative writing has evolved into his second love in the last twenty-five years, resulting in many novels and two non-fiction books. A three-book series about the wild politics and rampant corruption in Louisiana in 1964 was the beginning. Next came a fourth book mystery series about cruising in the Caribbean starting with "The Cruising Serial Killer."
His non-fiction, "What Do We Do With What We've Learned" is a thought-provoking inquiry that dares you to question many of the beliefs, traditions, and customs we inherit. Much of what we learn in early life, we learned from our parents and teachers. Much of what they learned in early life was learned the same way, etc.
 How much of this is fact, faith-based, or pure fiction?
His latest novel, a ground-breaking mystery entitled, "The Secret DNA Code", has been released just in time for him to bring to the Conference Center for a book signing during OktoberFest/StoryFest at the Bay. He will donate $5 to the Art Gallery for each book sold. Please be sure and come by and meet the Artist on Oct 10 & 11. Michael's sculpture will be on display through October.
To learn more about Michael and his novels, go to: http://www.scribd.com/michael4don4fess.
About the NCA Art Gallery.
The NCA Art Gallery is located in the Fairfield Bay Conference & Visitor Center. The viewing of the Art is open & free of charge to the public. All the art is available for purchase. You are invited to visit & view the beautiful Art Exhibits. The Artwork also includes paintings, sculpture, fusion glass, stain glass, and pottery. The artwork is open to all artists & is juried by a selection committee under the direction of Art Coordinator, Charlotte Rierson. Art Gallery hours are Mon. thru Fri. 9:00-4:00 unless there are special events then the hours are extended. The NCA Art Gallery is sponsored by the North Central Arkansas Foundation for the Arts & Education (NCAF&E) in collaboration with The City of Fairfield Bay. For more information contact NCA Art Coordinator, Charlotte Rierson-501-680-2741, email [email protected] or FFB Conference & Visitor Center Directors, Wilba or Bob Thompson at 501- 884-4202, email [email protected], 110 Lost Creek Parkway, Fairfield Bay 72088.