The North Central Arkansas (NCA) Art Gallery is featuring Guest Artist Amy Hill Imler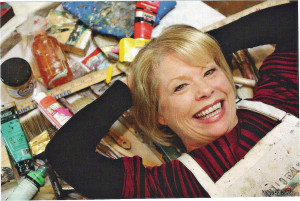 Amy Hill Imler has been painting over forty-five years. She received her formal training at the art Academy of Cincinnati, Ohio where she earned a four-year degree in design in 1969. She illustrated a twenty volume set of Children's Books entitled
"Creative Activities Program" published by Children's Press.
Amy moved to Arkansas in 1975 and began painting wildlife and natural images attracting the attention of both corporate and private buyers.  Amy became president of Mid-Southern Watercolors in 1989 where she is a Signature Member. That allows her to share her knowledge by teaching and also learning from other artists. Presently Amy works with Acrylic. She paints primarily non-objectively but loves to paint figures and pets. She has received numerous awards and was selected as a finalist by "The Artists Magazine" in their twenty-first annual art completion. She has been chosen as the Signature Artist by the American Heart Association for the Heart Ball four times, and in 2012 was the featured artist for the Grand Ball opus, benefiting the Arkansas Symphony Orchestra. Amy was named "Artist of the Year" by Pulaski Technical College Foundation in North Little Rock, AR in 2013.
Amy works out of her studio "Natural Impressions "in North Little Rock AR. Her work is displayed at "The Red Door Gallery ", North Little Rock AR, and "Gallery Central in Hot Springs AR and at "Lilly's Dinsum Then Some" In Little Rock, AR.
About the NCA Art Gallery.
The NCA Art Gallery is located in the Fairfield Bay Conference & Visitor Center. You are invited to visit & view the Art Exhibit. The Artwork also includes paintings, sculpture, fusion glass, stain glass, and pottery. The artwork is open to all artists & is juried by a selection committee under the direction of Art Coordinator, Charlotte Rierson. Art Gallery hours are Mon. thru Fri. 9:00-4:00 unless there are special events then the hours are extended.  The viewing of the Art is open & free of charge to the public. All the art is available for purchase. The NCA Art Gallery is sponsored by the North Central Arkansas Foundation for the Arts & Education (NCAF&E) in collaboration with The City of Fairfield Bay. For more information contact NCA Art Coordinator, Charlotte Rierson-501-680-2741, email [email protected]  or Our Towne Conference & Visitors Center Directors, Wilba or Bob Thompson for more information-   501- 884-4202,   [email protected], 110 Lost Creek Parkway, Fairfield Bay 72088.