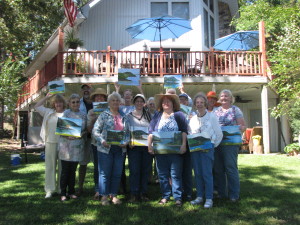 Members of the NCA Artist League enjoyed a two-day plein air workshop with wildlife and landscape artist Duane Hada on Sept. 22 and 23. Plein air is a French term simply meaning painting outdoors. After a day of demonstrations and practice at Bayside Studio and Gallery in Fairfield Bay, artists practiced outdoors. Hosts Bill and Sherry DeClerk provided tasty refreshments while artists painted scenes from their lakeside home in the Bay. The weather was idyllic as artists painted Sugarloaf and other nearby islands.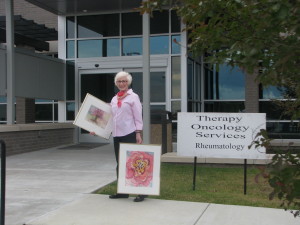 Displaying their lakeview paintings are (from left): Alecs Long, Raylene Finkbeiner, Duane Hada, Charlotte Rierson, Pauline, Sears, Bonnie Hookman, Gay Ryan, Michelle Bry, Ruby Krimm, Connie Hood, Joyce Hartmann, Julie Caswell, Lea Berry, Pamma Henderson, and Jan Cobb.
The next NCAAL workshop will be at Bayside with award-winning oil painter, Jason Sacran, on Nov. 12 and 13.
The NCA Artist League paints together each Monday morning at Bayside, and holds several workshops a year. They exhibit their art in various venues at Clinton, Fairfield Bay, and Greers Ferry. Anyone interested in more information can ask any member or President, Joyce Hartmann, at 745-6615.