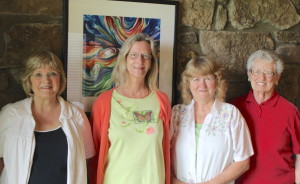 The NCA Artist League elected new officers in its meeting held June 15th at Indian Hills Country Club, Fairfield Bay. New officers are (from left) Joan Bland, President; Gay Ryan, Vice President; Alecs Long, Secretary; and Bonnie Hookman, Treasurer.
The Artist League meets each Monday in Fairfield Bay to paint together and socialize. They also sponsor art events such as workshops, demonstrations, and exhibits around local communities.
The next scheduled event sponsored by the Artist League is a watercolor demonstration by award-winning Cynthia Schanink, Hot Springs Village, on July 13 at 1 p.m. at the Fairfield Bay Conference Center. The public is invited to come and watch.
Anyone interested in painting or drawing, or who would like to attend the League's events, can find further information by asking members or officers, or checking the NCA Artist League's Facebook Page.