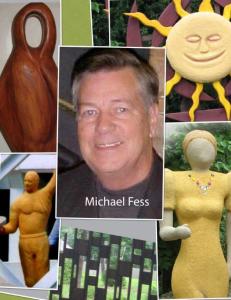 Sculptor & Author, Michael Don Fess, is the featured artist at the NCA Art Gallery/Fairfield Bay Conference Center through October. He carves wood and stone and will display several of his large pieces that have never been seen in Arkansas. His art has been sold across the U.S., from California to Florida, since 1994. Along with his sculpture, he will have a book signing at the Oktoberfest/Storyfest, October 10 & 11.
Michael's sculpture shapes are suggestive, not copies of nature, and his goal is to create beauty in shapes that have never been seen before. The Limestone pieces are often combined with wood to help create a harmonious blend. His work has been shown in countless exhibitions throughout Louisiana, Arkansas, and Texas.
Michael is an Arkansas native, having grown up in Magnolia. While living in Shreveport, Louisiana for forty years, he formed the Red River Sculpture Society with six other sculptors. He was inducted into that Regional Sculpture Hall of Fame in 1998 and moved to Little Rock in 2001.
His "hobby" became a serious effort to create after being goaded into his Debut Art Show at Centenary College in 1994 by a nationally known artist, Jerry Wray. He has been a Director of the Arkansas League of Artists and a member of the Arkansas Sculptors Guild. His gallery is now located at his home in Little Rock.
Creative writing has evolved into his second love in the last twenty-five years, resulting in many novels and two non-fiction books. A three book series about the wild politics and rampant corruption in Louisiana in1964 was the beginning. Next came a four book mystery series about cruising in the Caribbean, starting with "The Cruising Serial Killer."
His non-fiction, "What Do We Do With What We've Learned," has caused a lot of people to think, having sold several hundred copies. The latest novel, a ground breaking mystery entitled, "The Secret DNA Code," has been released just in time for him to bring to the Conference Center for a book signing during Oktoberfest/Storyfest. He will donate $5 to the Art Gallery for each book sold. Please be sure and come by and meet the Artist on Oct 10 & 11. Michael's sculpture will be on display through October.
The North Central Arkansas (NCA) Art Gallery is open to all Artists. The Art is chosen by a selection committee. There is a collection box for donations to help keep the Art Gallery running. The Gallery has 3 Dimensional Art, Paintings, and Photography. In August the art changed and is exhibiting new works of Art through November. The NCA Art Gallery is a collaborative effort of the North Central Arkansas Foundation for the Arts & Education and the City of Fairfield Bay. For more information contact NCA Art Gallery Coordinator, Charlotte Rierson 501-680-2741, [email protected] or Conference Directors, Wilba and Bob Thompson, 501-884-4402, [email protected], or [email protected] The NCA Art Gallery is in the Fairfield Bay Conference & Visitors Center located at 110 Lost Creek Parkway, Fairfield Bay. Hours for viewing the art are Mon. –Fri. 9 a.m.-4 p.m. or extended times for special events.