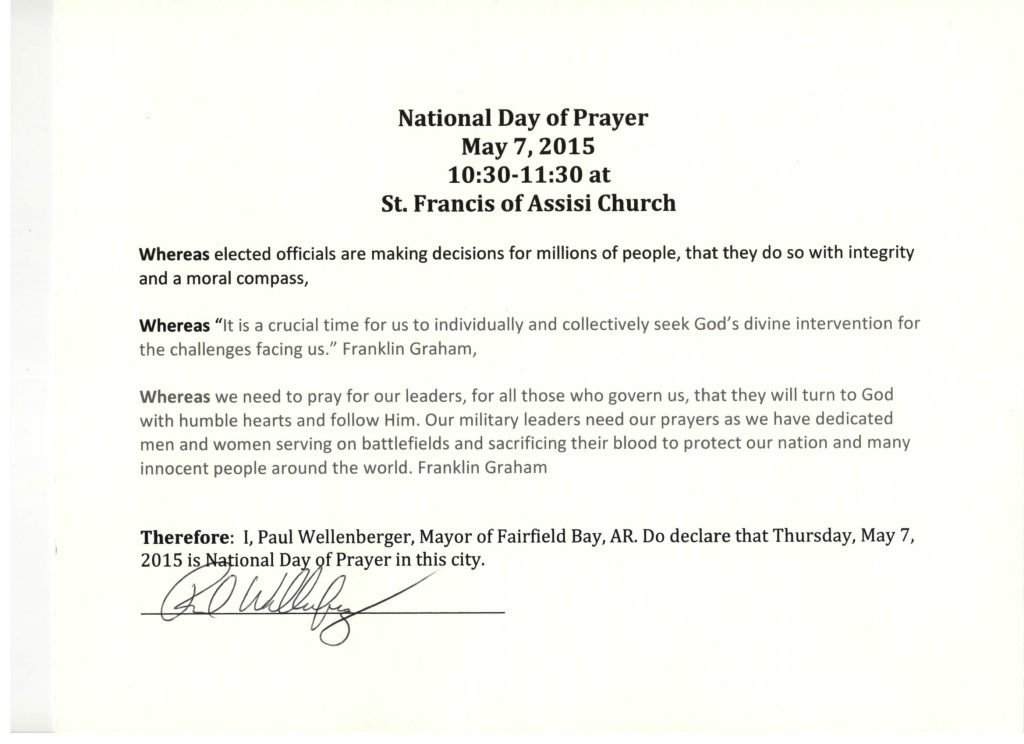 We encourage all residents of Fairfield Bay to come to St. Francis of Assisi on Thursday, May 7 at 10:30 a.m. for a one hour prayer service with the prayers going for our elected officials at the national and state and local level. The entire nation will say the same prayer at noon EST, thus 11 a.m in our time zone. Our collective voices are offered up to God to guide their decisions that they are moral and good for the majority of the citizens. There will be praying, listening and singing for one hour to ask God's help for any official in our country.
National Day Of Prayer A Historical Timeline
1952: On april 17 a bill initiated by Conrad Hilton of Hilton Hotels and Senator Frank Carlson of Kansas was passed that the President of the United States was to set aside an appropriate day each year, other than Sunday, as a National Day of Prayer.
1974: The National Prayer Committee begins as a subcommittee on prayer at the International Congress on World Evangelization held in Lausanne, Switzerland. Out of the Lausanne gathering came the U.S. Lausanne Committee, now Mission American, and America's National Prayer Committee. Mrs. Vonette Bright was appointed to the Prayer Advisory Group.
1976: First members are selected for the Prayer Advisory Group.
1979: The National Prayer Committee is officially formed.
1981: Planning begins for the first vision for the National Day of Prayer.
1983: The First National Day of Prayer observance takes place at Constitution Hall in Washington D. C. with featured speakers Vice President George Bush and Dr. Lloyd Ogilvie.
1986: Vonette Bright and the National Prayer Committee contact Senator Strom Thurmond (R) for guidance on writing a bill that would designate a day for the National Day of Prayer.
1987: Senator Thurmond writes the bill then introduces it to the Senate Judicial Committee. 13 Senators and 90 Congressmen signed, giving their endorsements.
1988: Rabbi Haberman and Rabbi Tanenbaum express their support of the bill.
1988: May 5: The Judiciary Committee in the Senate and the Committee on the Post Office and Civil Service in the House each release the bill for vote.
1988: May 7: The bill passes unanimously.
1988: May 8: President Ronald Reagan signs into law the designation of the first Thursday in May as the annual observance for the National Day of Prayer.
1989: The NPC forms an Official Task Force for organizing events across the country in observance of the National Day of Prayer.
1991: Shirley Dobson accepts the role as Chairman of the NDP Task Force.
1998: Law was signed by President Clinton that the President shall issue each year a proclamation designating the first Thursday in May as a National Day of Prayer on which the people of the United States may turn to God in prayer and meditation at church, in groups, and as individuals.
2015: Millions will observe the 64th Anniversary of the National Day of Prayer with the theme, "Lord, hear our cry."