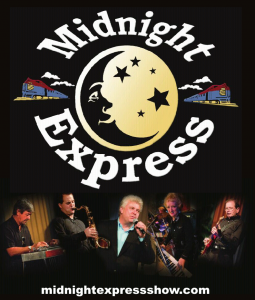 Talk about a "jack of all trades!" Randy Holland is the lead musician, drummer and vocalist of Midnight Express. Of course this is his side "gig." His main job is Mayflower, AR's mayor. However, when he is working the Midnight Express he is ALL IN, performing music and impersonations for all ages to remember and enjoy…including Conway Twitty, Elvis, and George Jones, just to name a few.
Randy began his singing career at the age of four years old on radio and on his cousin's TV show. He has released several CDs and is currently releasing his "Red" CD. He is a two-time winner of "You Can Be A Star!" on the Nashville Network and has a hit single, "We'll Talk It Over" on the famous Hill Top Label out of Nashville. Additionally, you may have heard his regional hit "Razorback Boogie" when the University of Arkansas basketball team won the National Championship. It is reported that Randy's performance of Conway Twitty caused Conway's sister-in-law to say, "It's like hearing Conway sing one more time."
Randy and his 5-pc group will be featured at NCAFAE's "Dance in the Rain" concert at the Fairfield Bay Conference Center (110 Lost Creek Parkway; Fairfield Bay, AR) on Saturday, April 16; 7 p.m. to 9 p.m. Please do bring your dancing shoes to fully enjoy the program of rock 'n rock, country and more. Additionally, there will be heavy hors doevres, a silent auction and other surprises.
This is NCAFAE's annual fundraiser. Tickets are available at the Conference Center for $30 in advance and $35 at the door OR from NCAFAE board members. This show is co-sponsored with the Arkansas Arts Council and is one you REALLY do not want to miss.
For additional information contact the Conference Center at 501-884-4202.