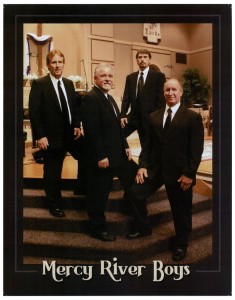 We are pleased to announce that the Mercy River Boys will be appearing at the Fairfield Bay Conference Center on May 18 at 4 p.m. They are being hosted by The Fairfield Bay United Methodist Church.
Everyone is invited to come out and hear these talented men sing Southern Gospel with their own flavor, which has only come from over 30 years of singing and touring. Their style is that of the old fashioned barbershop quartet and their harmonies are outstanding. The music is fun and light-hearted with a message for us all. The group is very entertaining and promises us a delightful afternoon.
Bob Jackson, founder, started the group in the 70's and sings baritone. John Goodwin sings lead for the quartet and his vocals are the basis for the traditional harmonies for which they are known. Jimmy Goodwin sings bass and provides a solid foundation that a quartet needs. Last, but certainly not least, is Ray Houston who has been with the quartet since its inception. It's his rich Irish tenor voice that adds uniqueness to the sound of this wonderful quartet. When the four of them get together, it is an afternoon of uplifting, spiritual music for the whole family!! CDs and t-shirts will be available for purchase.
There is no admission charge but a love offering, for those who wish to donate, will be accepted by the group to help offset their expenses.
For more information please call 501 884-3373.
Please mark your calendar and plan to attend this special event. Enjoy! Hope to see you there.