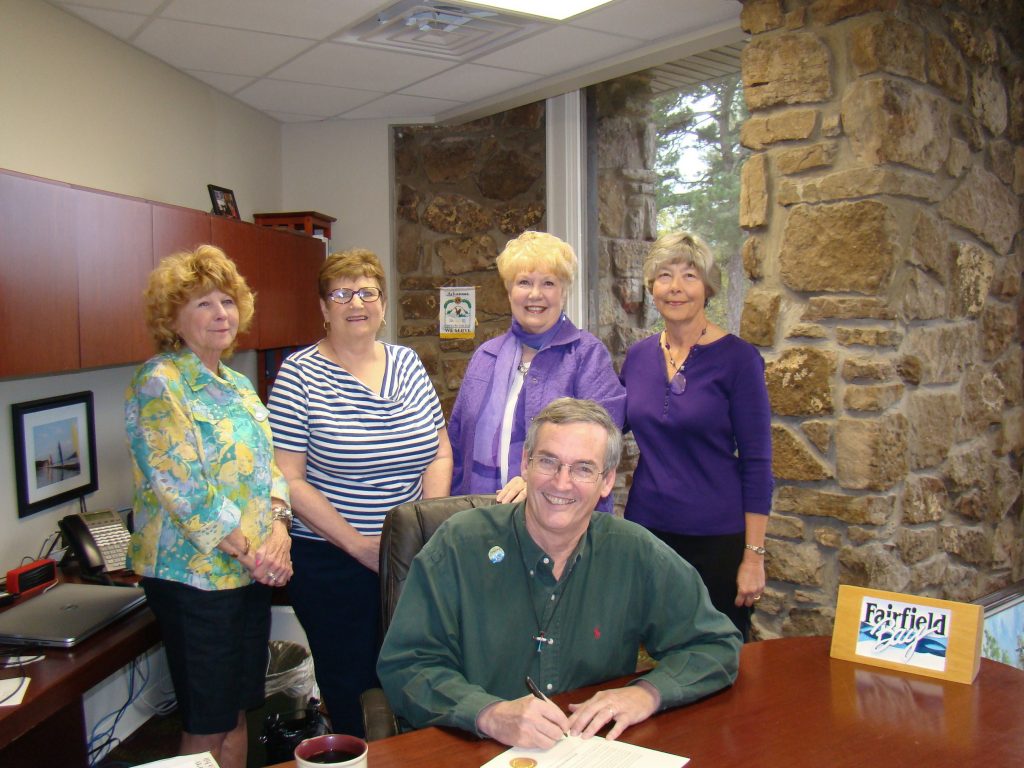 In honor of the 85th anniversary of the founding of Beta Sigma Phi, April 30, 2016 has been proclaimed "Beta Sigma Phi" Day by Fairfield Bay Mayor, Paul Wellenberger. Pictured with him are the Presidents from each of the four chapters in Fairfield Bay; Annalee Culp, Laureate Alpha Lambda; Kathi Owens, Xi Gamma Kappa; Willa Wells, Xi Gamma Zeta and Georgia Peifer representing Zeta Sigma in Frieda McClellan's absence.
Beta Sigma Phi International (ΒΣΦ) is a non-academic sorority with over 200,000 members in chapters around the world. Founded in Abilene, Kansas, in 1931 by Walter W. Ross, the organization has spread to every state of the United States, to every Canadian province, and to 30 other countries. The sorority was founded for the social, cultural, and civic enrichment of its members. Members have donated approximately $1 million to medical research and treatment through The Endowment Fund.
Beta Sigma Phi is primarily a social and cultural organization that incorporates service as part of its activities. The motto for Beta Sigma Phi is Life, Learning and Friendship. Service is done locally and internationally and is a tribute to the character of the members. The cultural programs are important in Beta Sigma Phi. They are the basic element of the organization. Through these programs each member is encouraged to grow personally, while at the same time participating in the growth of her sisters. They are designed to broaden personal knowledge and understanding of self, friends, and the world. As a member of Beta Sigma Phi it is in our nature not only to "give the best that is in us to ourselves and our sorority," but to "give the best that is in us throughout the world."
Each year, the sorority has a new theme. The 2015-2016 theme is "Your Forever Friends." New themes are chosen each Founder's Day, April 30. A luncheon will be held on Saturday, April 30 at The Little Red Restaurant at Indian Hills where the new theme will be announced for 2016-2017 as the sisterhood of Beta Sigma Phi is celebrated.
Some of the most recognizable "famous" Beta Sigma Phi sisters are: Sarah Ophelia Cannon aka as Minnie Pearl, Eleanor Roosevelt, Pat Nixon, Nancy Reagan, Barbara Bush, Hillary Rodham Clinton, Elizabeth Dole, Anne Fisher, Rosalynn Carter, Louise Faulkner, Joan Fontaine, Debbie Reynolds, Olympia Snowe, Senator Muriel Humphrey and Eunice Kennedy Shriver.