NCA Art Gallery/Fairfield Bay Conference Center Guest Artist
Internationally Known Artist, Sheila Parsons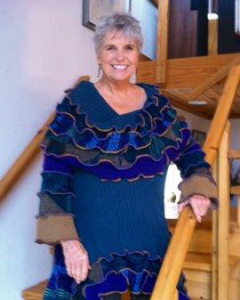 Sheila Parsons, MSW has been a professional artist and workshop instructor since 1976. She received her master's degree in art from the prestigious Pratt Institute in New York and has studied since then with some of the greats in the watercolor field. She has been an assistant to Milford Zornes on more than 30 watercolor workshops and has led her own workshops all across the United States, in Italy, Ireland, Mexico, Wales, Greece, Spain and France. Her work is included in public and private collections in Europe, Mexico and the USA.
She does vibrant and colorful paintings of landscapes, florals and street scenes. She is a signature member of the Mid-Southern Watercolorists, a member of Oklahoma Watercolor Association and Midwest Watercolor Association and has served on the faculty of the Arkansas Arts Center. Her work has been included in Watercolor USA, Mid-Southern WC annual and other national shows. Her paintings are in corporate and private collections throughout the United States, Mexico and Europe.
In 1996, Sheila received the Arkansas Governor's Award for Outstanding Individual Artist. The Fall 2000 issue of Watercolor, an American Artist publication, had an eight-page feature article about Sheila and her paintings. She received a Lifetime Achievement in the Arts Award from the Faulkner County (Arkansas) in 2010. Sheila is presently the Conway League of Artist President. She currently lives and works with her husband, Richard Talley, three dogs, and a cat in her studio home in Conway, Arkansas. Sheila is conducting a watercolor workshop June 1 & 2 for the local artist league, NCAAL.
The NCA Art Gallery brings quality Fine Art to our community with good taste & family values. The exhibit features Sculpture, Glass, photography and paintings. The Art Gallery is open to all artists and is selected by a committee. All the artwork is available for purchase. The NCA Art Gallery is sponsored by the North Central Arkansas Foundation for the Arts & Education (NCAFAE) in collaboration with The City of Fairfield Bay. For more information or purchase of Artwork contact NCA Art Gallery Coordinator, Charlotte Rierson-501-680-2741, email [email protected] or Fairfield Bay Conference Center Directors, Wilba or Bob Thompson- , [email protected] 501- 884-4202, 110 Lost Creek Parkway, Fairfield Bay 72088.