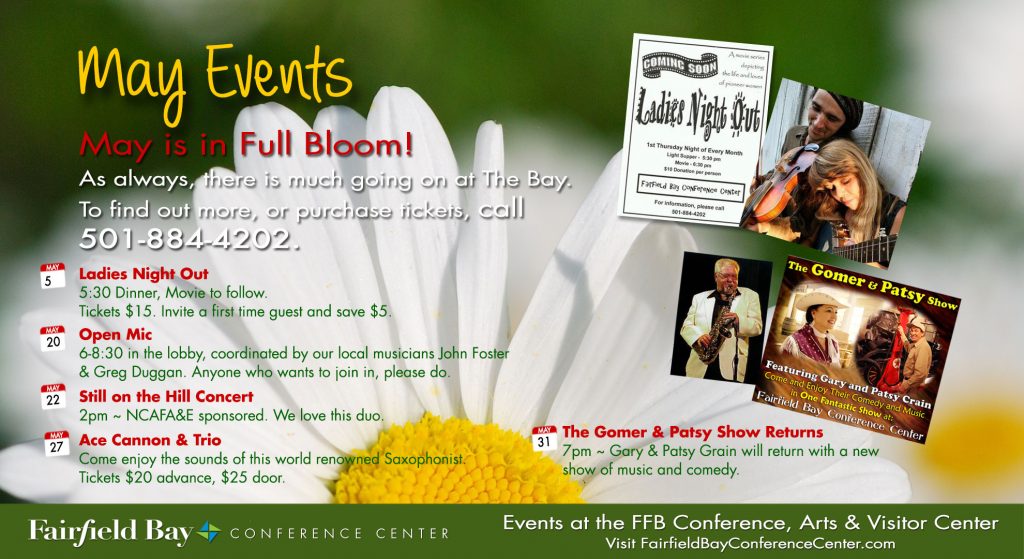 Ladies' Night Out -Dinner & Movie, May 5th
5-9pm Dinner at 5:30. Movie to follow. Tickets $15.00 Invite a first time guest and save $ 5.00.
Open Mic – Thur May 20th, 6:00-8:30 p.m
The 3rd Thursday of every month, Conference & Visitor Center Lobby.
OPEN MIC entertainment includes our very own locals, John Foster and Greg Duggan, as they sing and play the guitar. Other special guests appearing are Jeff Stansbery, who plays regularly at other venues and does a lot of his on songs in an India Folk Music genre. In addition, all others who are willing to share their talent are encouraged to take a turn on OPEN MIC. Should you wish to participate as an entertainer, let it be known. Encore is open for drinks and socialization. Join the fun.
Still on the Hill – May 22,nd 2-4pm
"True Faith, True Light: Devotional Art of Ed Stilley"
The beloved folk duo is back, with a tribute to a musical minister of another generation.
Enjoy Kelly and Donna Mulhollan, the storytelling, sonwriter duo of Still on the Hill, as they incorporate instruments made by Ed Stilley, the preacher man of Hogscald Holler, who received a higher calling to help put musical instruments into the hands of children. Support for some NCAFA&E programs provided in part by the Arkansas Arts Council, an agency of the Department of Arkansas Heritage and the National Endowment for the Arts.
Ace Cannon – May 27
Come enjoy the sounds of this world renowned Saxophonist.
Tickets $20.00 in advance – $25.00 at the door.
We are excited about having renowned saxophonist Ace Cannon and his Trio with us. Sam Perkins said "Ace Cannon is the greatest saxophone player who ever lived, but then again he came out of the same stables as Carl Perkins, Elvis, and Jerry Lee Louis." In 1986, he performed on The Class of '55 album ,which brought together Jerry Lee Louis, Carl Perkins, Jonny Cash and Roy Orbison for the first time.
We are pleased to be able to bring exceptional talent to Fairfield Bay for your enjoyment. Tickets will go on sale May 2 at the Conference Center.
The Gomer and Patsy Show Returns
May 31 – 7:00 PM
The Gomer and Patsy show will be back starting on Tuesday May 31 and each Tuesday evening through Tuesday October 31. Gary and Patsy Grain will return with a new show of music and comedy highlighting the music of Patsy Cline and George Straight as well as many of the characters from the Andy Griffin and Gomer Pyle Show. Watch for more details.
Your Conference & Visitor Center Needs You
Our busy season is fast approaching. If you would like to lend a helping hand at the Fairfield Bay Conference Center, please see Joyce or Wilba. We need people for helping with events, office, set-up and more. Let us know what you are avaialble to do and when. We know we can find a job for you AND we know you will enjoy working with our fun loving crew.
For more information about the Conference and Visitor Center visit www.FairfieldBayConferenceCenter.com, or call 501-884-4202.